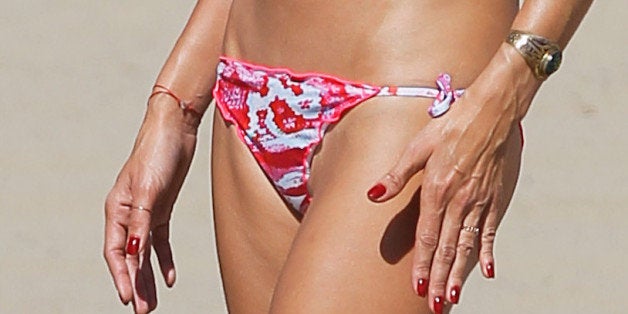 There are some women who swear by Brazilian waxes. But for the rest of you, those who view down-there hair removal as legalized torture, take heart: This was your year.
It's not as if the clock was totally turned back on the grooming trends. But over the course of 2013, we sensed more and more signs that the norm for down-there grooming was shifting. Sure, a few polls and anecdotes can't prove a seismic shift in pub(l)ic opinion. But if there's even the slightest indication that the standards for bikini-area maintenance are loosening, we know tons of women who will be incredibly happy.
One poll found 51 percent of women aren't grooming down there at all. A UKMedix.com survey of 1,870 women across the UK ages 18-30 asked, "Do you style or groom the hair in your bikini region?" 49 percent said yes, while 51 percent said no. Of those 51 percent who have foregone grooming, 45 percent said they "used to, but don't any longer."
Another survey found men aren't even that crazy about Brazilian-style waxes. A survey of 1,000 men done by hair removal company Nad's found that men's most preferred "look" was not a Brazilian, but rather "'trimmed and tidy' –- a well kept 'lady garden.'" 43 percent of men polled said they preferred women's hair natural with a "Bermuda triangle" (i.e. trimmed hair and waxed sides), and only 12 percent said they prefer a full-on Brazilian (no hair at all).
Gwyneth Paltrow went on the record saying, "I work a '70s vibe..." Sure, she was mostly joking. But Paltrow's comical anecdote on "The Ellen DeGeneres Show" about her emergency shaving situation ("Let's just say everyone went scrambling for a razor...") raised more than a few eyebrows and likely made women who really are working a '70s vibe feel that much better.
Lady Gaga posed nude with her natural, ungroomed hair exposed. "Typically, everything down there is shaved, waxed, and stripped; having an artist of Gaga's caliber go against the status quo -- especially for a publication like Candy -- toys with our perceptions of what's considered normal," noted Refinery29 about Gaga's Candy magazine cover.
American Apparel sold a shirt featuring a drawing of a menstruating, hair-covered vagina. Yep, no bikini waxes there. And no apologies or regrets by American Apparel or the artist who drew the image, Petra Collins.
It became clear that getting bikini waxes is actually bad for your health. According to HuffPost Healthy Living, a small study out of Nice, France, found an association between pubic hair removal and an increased risk of sexually transmitted Molluscum contagiosum (a yucky skin virus). Waxing can also lead to infections, burns and ingrown hairs.
Instead of getting that wax, try some of these tips: