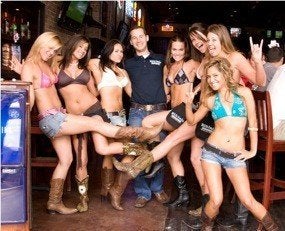 Doug Guller, Founder and CEO of ATX Brands, has announced plans to purchase the former ghost town of Bankersmith, Texas and rename it something (hopefully) much more appealing to the average tourist: Bikinis.
The town's new moniker comes from Guller's chain of Texas "breastaurants" with the same name. Guller purchased Bankersmith through Craiglist, and hopes to start throwing events in the town by fall, according to a press release.
Of the newly unincorporated town, Guller said in a press release: "Bikinis, TX will be a world class destination and I am thrilled to expand the Bikinis brand to include town ownership. There can't be a better way to put Bikinis on the map…Literally." Nearby destinations, of sorts, are Luckenbach, which was immortalized in a Waylon Jennings and Willie Nelson song, and Fredericksburg.
Check out some more of our favorite oddly-named places below.