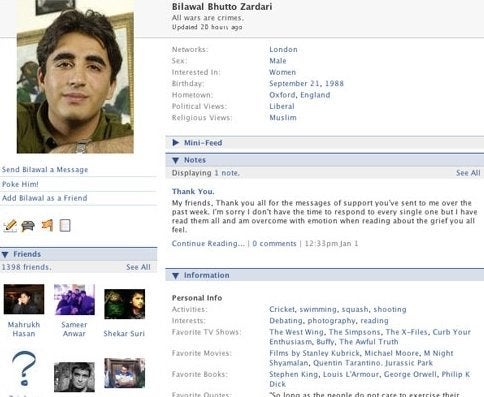 Update:
A Facebook profile claiming to be one of Former Pakistani Prime Minister Benazir Bhutto's son, Bilawal Bhutto Zadari has been labeled a fake.
Yesterday an aide to Bilawal's father, Asif Ali Zardari, said that his son had not posted any public messages on his real Facebook profile, which is under the name of Bilawal Lawalib. "It's the Government," the aide said. "They're trying to make it look like it was a mistake to appoint him, because he is so young. They're trying to demonise Mr Zardari."
A friend of his Oxford says he does has a Facebook profile, but under the name Bilawal Lawalib, Bilawal spelled backwards.
While the New York Times covers the fake Facebook profile story and labels a Daily Mail photo of him dressed as a devil as fake, The Times of London claims that photo is Bilawal.
Former Pakistani Prime Minister Benazir Bhutto's son, Bilawal Bhutto Zadari, has been thrust into the spotlight since the assassination of his mother. Just a short while ago, he was living a normal, student life, and he even has a Facebook profile.
Radar has a screengrab of Bilawal's supposed profile, complete with a thank you for the outpouring of support since his mother's death and his likes and dislikes. He's a fan of "Buffy the Vampire Slayer" and "The West Wing."
Also, the The Daily Mail found a pic of him in fancy devil dress on Facebook:


...A picture of him taken just weeks ago at a fancy dress party shows his face plastered with heavy make-up and a pair of horns attached to his head. Benazir Bhutto, Bilawal dons a devil outfit for a fancy dress party. The picture, from a friend's page on the networking internet site Facebook, is a telling reminder of the carefree life that Bilawal enjoyed until his mother Benazir's murder last Thursday...

...The pictures posted by friends on Facebook suggest Bilawal had settled well into undergraduate life. In one he appears relaxed and happy as he poses with friends after a matriculation ceremony, which formally recognizes new members of the university. In the Halloweeen photograph he has added the comment: "We're ready to bring hell on earth. . . mwaaahahahahahah."