Let's call this revolutionary toilet the Super Bowl. Or a Crapper Of A Problem. Or how about: Rage Against The Latrine. Bathroom humor aside, a student-led team of researchers at University of Colorado Boulder among the winners of a Bill and Melinda Gates Foundation grant through the "Reinvent the Toilet Challenge" that is no joking matter.
On Tuesday in the second round of the challenge, the CU-Boulder engineers were awarded $780,000 for their toilet concept that uses concentrated sunlight to disinfect and decompose toilet waste and produce "biochar" -- biological charcoal -- a natural alternative to chemical fertilizers for reuse in farm soils, The Associated Press reports. Gates Foundation will fund the project over 16 months beginning in September.
"This project integrates areas of expertise at CU in solar-thermal processes, disinfection and biochar that would not typically work together and creates a great team to tackle such a complex and important problem as sustainable sanitation solutions in developing countries," said Linden in a CU-Boulder press release.
In a YouTube video calling for a "toilet revolution," Gates' foundation called for "new ideas to help reduce disease and find new ways to turn crap into valuable stuff, like fuel, fertilizer, and fresh water." (Watch the video above).
While some may not see the importance of what a better toilet could do for the world, Gates is passionate about reinventing the toilet, he tweeted about it earlier this week:
Gates took on the mission of building a better toilet a year ago. As he recently told the Times of India, 1.5 million children die each year due to severe diarrhea caused by poor sanitation because they lack the kind of toilets that affluent countries take for granted.
"Finding a new toilet design that is as good as the flush toilet should be possible. It does not exist now," Gates said. "That's why we have been putting in money asking people to design a new toilet."
So, the challenge was posed to scientists to "get their sh*t together," but not just any kind of toilet would do. The revolutionized toilets must be "hygienic and sustainable, discharge no pollutants, generate energy, recover nutrients and only need a tiny amount of water," All Things Digital explained. But that's not all, they must also have an operation cost of "a nickel per person per day."
What would you name this toilet? Leave your best puns in the comments below.
Related
Before You Go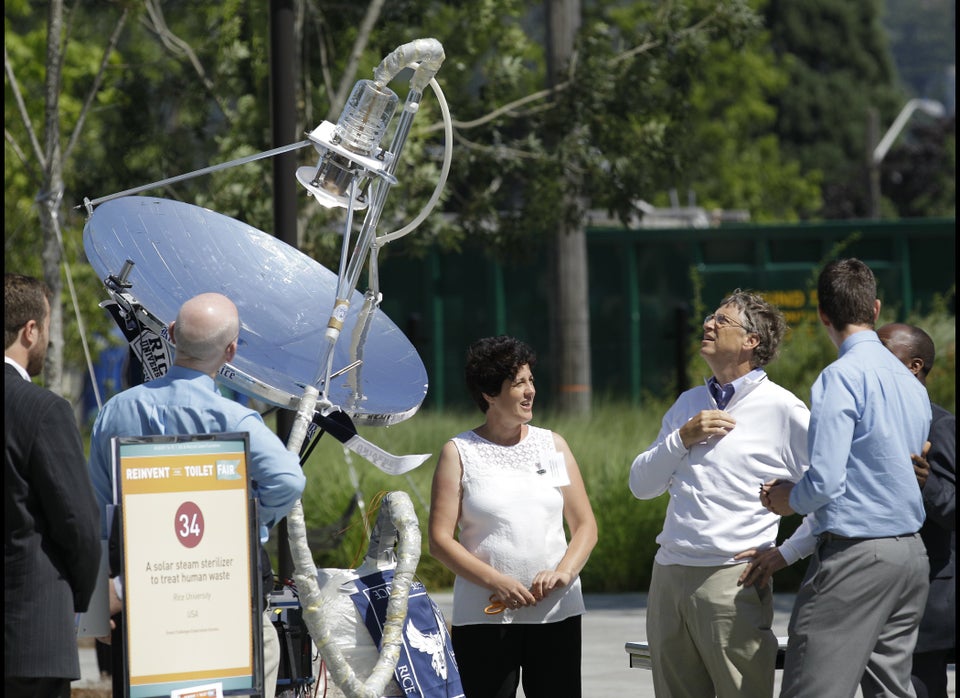 "Reinventing The Toilet" Fair
Popular in the Community