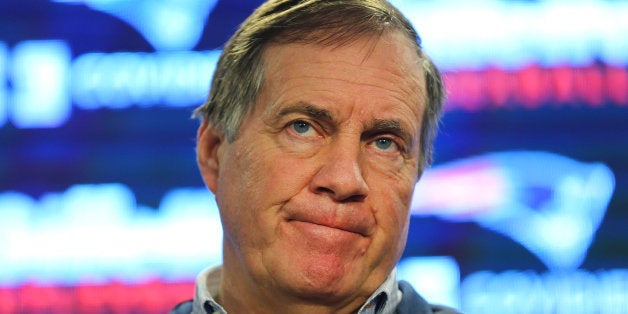 New England Patriots head coach Bill Belichick addressed the "deflategate" controversy for the second time in three days on Saturday. During a press conference, Belichick implied it was possible his team's footballs were deflated during the AFC Championship Game on Sunday, but said he's confident the Patriots had acted in accordance with the National Football League's guidelines.
Belichick also told the world that he has "handled dozens of balls over the past week" in hopes of better understanding the issue, so really, this is the controversy that just keeps on giving.
"The texture of the ball is easy to identify, the pressure of the ball is a whole different story," Belichick added. (An under-inflated football can be easier to throw and catch.)
Belichick also pushed back against a scientific theory that has circulated since the beginning of the "deflategate" controversy: the idea that the team could have prepared its balls in a sauna or similarly hot environment before the game, which would allow them to naturally deflate in a colder environment over time.
Belichick's explanation doesn't entirely explain the discrepancy between his team's balls and those of the Indianapolis Colts. ESPN reported on Tuesday that the NFL had found 11 of the Patriots' 12 footballs were significantly under-inflated. All the footballs prepared by the Colts were reportedly in accordance with NFL rules.
UPDATE: A previous version of this post included tweets by Los Angeles Times reporter Nathan Fenno. He has since taken down the tweets.
Related
Popular in the Community