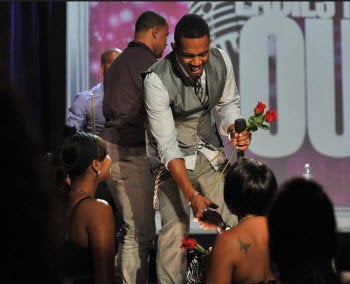 Let me break it down for you. The handsome, charming, gregarious Bill Bellamy first entered the world of stand-up comedy when he was a Rutgers University student. Legend tells that he won a male beauty pageant after showcasing his previously hidden comic talents. After his national television debut on Showtime at the Apollo, Bellamy went on to guest-star on Def Comedy Jam. This led to his first Showtime comedy special, a ratings juggernaut for the network, Booty Call. And by the way did you know Bellamy is responsible for bringing that particular phrase into our cultural zeitgeist? Truth.
Bellamy has made countless appearances in films and on television, and currently stars in the sitcom Mr. Box Office alongside Jon Lovitz, Gary Busey, Tim Meadows and Vivica A. Fox. I spoke to him last week about his newest project, the Ladies Night Out Comedy Tour Showtime Special which airs Friday night February 22 on Showtime at 9:30pm. "The Ladies Night Out Tour is a brand that I created to address relationships from a comedic standpoint," he said. "Since most women love to laugh and have fun, I thought that laughing at themselves and us
"We have been getting so many ladies coming out to our shows that we wanted to document what has been going on, so we had a camera crew follow all of the guys and see the natural chemistry and the impromptu moments that make this special very unique," Bill told me. "You get to see these comedians as real people and entertainers." The Ladies Night Out Comedy Tour Showtime Special has taken three years to film and is, Bellamy says, "a heartfelt project." Stand Up comedy "is personal, and it's the script that I write and deliver to the fans. There's nothing like seeing all that laughter from the stage. It's infectious and it keeps me alive and in direct contact to my fans."
The guys impart a lot of relationship advice with a saucy twist to the audience. "Relationships are like fine art. You know what you are attracted to and you know what works for you," advises Bill. "You have to listen and be willing to compromise for the better good." He guarantees, "As you struggle to do this -- comedy will be at the forefront."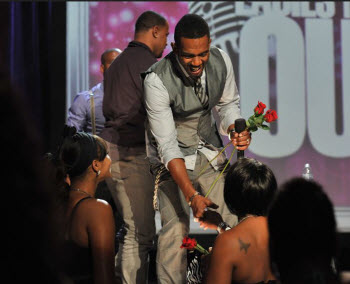 Photo provided by Showtime Networks
"Comedy Just Got Sexy! is our catchphrase. We are making comedy sexy with the subject matter and with the personas of the comedians. Eye candy never hurts on the delivery of a well-crafted joke," says Bellamy, who's rather easy on the eyes himself. He adds, "LOL."
Bill Bellamy's Ladies Night Out Comedy Tour Special airs Friday February 22 at 9:30pm on Showtime. Bellamy will also host the Centric Comedy All Stars on Centric, a BET network, March 2nd at 9pm.
The Ladies Night Out Tour can be enjoyed in person in the following cities in February, March and April:
February 22 - Tampa - Improv
March 1 - Phoenix - Wild Horse Pass & Casino
March 14 - Baltimore - The Comedy Factory
April 5th - Pittsburgh - Improv
April 11th - Ontario, Canada - The Improv Ontario
Popular in the Community