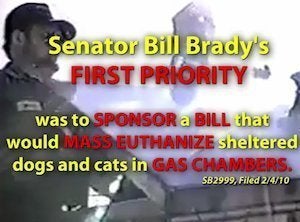 Illinois Gov. Pat Quinn (D) has brought out the big guns, brandishing a cringe-worthy attack ad on GOP challenger Bill Brady that highlights his prior sponsorship of a bill that would have authorized the mass euthanization of pets in carbon monoxide gas chambers.
"Just two days after Bill Brady won the primary for governor, Senator Brady's first priority was to sponsor a bill that would mass euthanize sheltered dogs and cats in gas chambers," the text in the ad reads over a shocking montage of whining dogs being crammed into a metal box. "Bill Brady's law would undo a deal worked out over two years by veterinarians, Farm Bureau, and Illinois' Human Society."
Politifact has since fact-checked the ad and deemed it "half-true:"
Brady's bill, offered the following year, would have widened the options for animal shelters. His bill, which according to media reports was introduced on behalf of a constituent who works in animal control, would have lifted the one-animal-at-a-time limit. That could have made a difference in how shelters calculated whether to use gas chambers instead of injection. For instance, the chambers can be used for "fractious cats, violent dogs or other animals that may subject the staff at the animal control facility to risk of injury," said Peter S. Weber, executive director of the Illinois State Veterinary Medical Association, one of the groups that initially had supported gas chambers prior to backing the 2009 compromise bill.
The ad strays into inaccuracy, however, in its implication that the bill would have mandated euthanasia by gas chambers. It would have rather re-authorized it in cases deemed appropriate by a veterinarian.
Governor Quinn hammered Brady for his support of the bill back in February, appearing at the 109th annual International Dog Show and announcing that being dog-friendly was "a pretty good way to win an election." Brady then quickly removed his name from the legislation in the wake of the criticism.
Scroll down to see the ad.
Popular in the Community