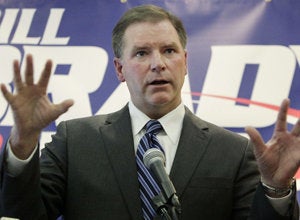 In another piece of ugly polling for Illinois Democrats, a new Rasmussen survey released Thursday gives Republican Bill Brady a significant lead in the governor's race.
Again, Gov. Quinn's favorability numbers were dismally low: only 13 percent of respondents described their opinion of the governor as "very favorable," while 28 percent called it "very unfavorable." When asked about his performance as governor, a mere nine percent strongly approve of the job he's done, while 33 percent strongly disapprove.
His opponent, Bill Brady, was viewed very favorably by 19 percent of respondents; 15 percent viewed him very unfavorably. But an equally large group, 18 percent of those polled, said they didn't know enough about him to form an opinion.
Indicative of the state's political leanings is the decision by Illinois Attorney General Lisa Madigan not to join with more than 14 other states in a lawsuit challenging the constitutionality of a provision in the newly passed federal health care plan. Quinn agrees with Madigan's decision not to sue the government over the requirement that every American buy or obtain health insurance.

Just 40% of Illinois voters think the state should sue the federal government, while 47% oppose the idea.

Nationally, 49% of voters favor their states suing the federal government over that requirement in the health care plan. Thirty-seven percent (37%) oppose such a suit.

The other piece of somewhat good news: slightly more Illinoisans think the economy is getting better (36 percent) than getting worse (33 percent).
REAL LIFE. REAL NEWS. REAL VOICES.
Help us tell more of the stories that matter from voices that too often remain unheard.