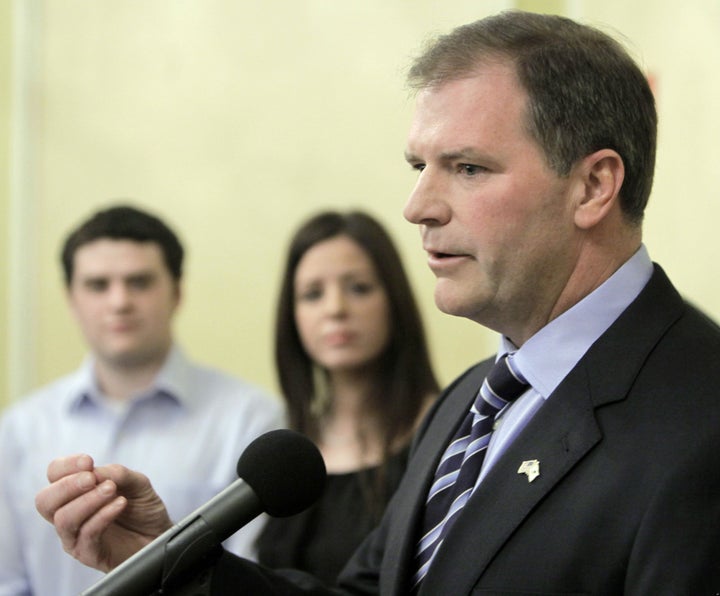 "I think supply and demand in the marketplace determines the rate of minimum wage," then-freshman state senator Bill Brady said in 2003. "I don't think governmental intrusion is as effective."
That state legislator is now running for governor, and that statement -- among many others -- is being used as fodder by his opponent, incumbent Governor Pat Quinn, to paint Brady as a member of the "extreme right wing."
Brady's votes against increasing the minimum wage, along with his hard-line anti-choice votes, his opposition to gay rights and his rejection of many health care bills, were highlighted in a Quinn campaign document defending the "extreme" claim. Eric Zorn of the Chicago Tribune received the list of votes and published it Monday.
Many of the votes are in line with what we already knew about Brady. For instance, on abortion:
Co-sponsored SB 1338, the "Ultrasound Opportunity Act" (2009)-- Would have required abortion providers to offer an ultrasound for viewing to every woman who has an abortion and records of the ultrasounds would have been filed with the Illinois Department of Public Health. The bill included regulations that were medically unnecessary, costly, and impossible to follow with currently available ultrasound technology.

But his belief that the government shouldn't control the minimum wage was one of a few surprises in Zorn's column. Brady also looked to the free market on women's pay:
Regarding pay equity for men and women, Brady said the marketplace should set pay standards. Responding to a question about pay equity between men and women, Brady said the marketplace should dictate pay rates. On a question about affirmative-action programs for college students, Brady said he "opposes setting quotas." [State Journal-Register, 5/8/06]
The Quinn camp also played up his vote on medical leave:
Brady voted against a bill that created the Illinois Family and Medical Leave Act. It contained provisions essentially identical to those in the federal Family and Medical Leave Act except that it applied to employers with 25 or more employees instead of 50 or more employees. The bill provided 12 weeks off to care for an infant child or serious illness of the employee or immediate family. [HB 2, Third Reading, 62-50-1, 3/24/99]
Calling all HuffPost superfans!
Sign up for membership to become a founding member and help shape HuffPost's next chapter