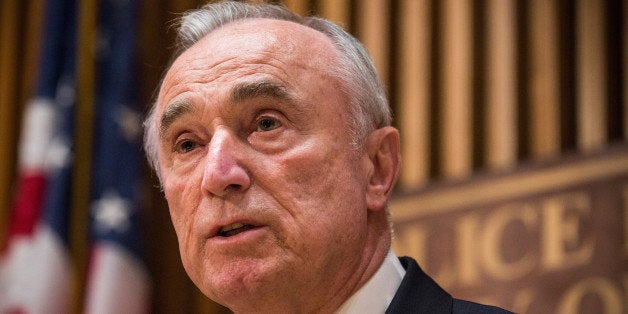 NYPD Commissioner Bill Bratton gave a press conference yesterday on the rising number of shootings in New York City. Shootings in NYC increased 17 percent this year over the same time period in 2014.
"In this city, people are killing each other over marijuana more so than anything that we had to deal with an '80s and '90s with heroin and cocaine," said Bratton. "We just see marijuana everywhere when we make these arrests, when we get these guns off the streets."
I'm not sure if Bratton intended to make the point that marijuana prohibition leads to violence, but that is what he is saying. It is obvious that the marijuana plant and its use by itself is not leading to the killings. It is the fact that marijuana is illegal and control over the illicit market is what leads to violence over the profit of this plant.
If, indeed, there is violence in the illicit marijuana marketplace between those who are selling marijuana, there is one very basic and smart way to solve that problem: end marijuana prohibition.
Four states, Colorado, Washington, Oregon and Alaska have all legalized marijuana and a major argument in support was to take the marijuana trade out of the illicit market to reduce violence.
The NYPD also faces violence from marijuana prohibition. At yesterday's press conference, the NYPD revealed that it was a marijuana ripoff that led to the murder of officer Peter Figoski in 2011.
"These are all ripoffs," Boyce said. "These are not turf battles. These are ripoffs of marijuana dealers, robberies. We lost a police officer, detective Pete Figowski, a couple years ago. He was responding to a marijuana ripoff."
No one should lose their life over the marijuana trade. Bratton and the NYPD should be leading voices for ending marijuana prohibition.
"Prohibition is the absence of control, and by legalizing and regulating marijuana, we can regulate the marijuana marketplace, said gabriel sayegh, managing director of policy and campaigns for the Drug Policy Alliance. " If Bratton wants to end the violence in the illicit marijuana marketplace, he should support the Marijuana Regulation and Taxation Act introduced by State Senator Liz Krueger and Assemblywoman Crystal Peoples-Stokes."
Tony Newman is the director of media relations at the Drug Policy Alliance (www.drugpolicy.org)
Related
Popular in the Community