NEW YORK -- Toward the end of a press conference announcing his new second-in-command Wednesday, Commissioner Bill Bratton of the New York City Police Department took a moment to address his critics.
"I'm not going anywhere," he said. "For those trying to push me out the door, you better start pushing harder. I like this job."
Bratton's remark came just hours after a protest in lower Manhattan calling for Mayor Bill de Blasio to replace Bratton with someone new. It also followed several days of speculation surrounding the resignation of Chief of Department Philip Banks, who was the department's highest-ranking black officer.
Banks had been expected to take the job of deputy commissioner -- the position directly below Bratton's -- but he abruptly retired last Friday, allegedly due to a disagreement with Bratton over what would have been his new responsibilities. A number of lawmakers of color expressed concern, and critics charged that this was yet another example of the NYPD's broken relationship with minorities.
On Wednesday, Bratton tapped Benjamin Tucker to replace Banks. Tucker, who is now the department's highest-ranking black official, has a long resume. He joined the force in 1968, worked for the Civilian Complaint Review Board and served as deputy assistant director for law enforcement services under former Mayor Ed Koch. In 2009, President Barack Obama chose Tucker to head the National Drug Control Policy's Office of State, Local and Tribal Affairs.
Tucker returned to the NYPD earlier this year to work as a deputy commissioner for police training. "He has an intimate understanding of crime, drug abuse, youth and the law," Bratton said Wednesday.
For a small but dedicated group of activists outside NYPD headquarters Wednesday, however, it didn't matter who replaced Banks. The man who needs replacing, they said, was Bratton.
"The resignation of Philip Banks has brought a lot of attention to City Hall and One Police Plaza," said Josmar Trujillo of the group New Yorkers Against Bratton, speaking to reporters at Wednesday's protest.
Trujillo went on to list what he said were "real scandals at One Police Plaza," including "policies that discriminate against communities of color" and a "lack of accountability" in cases of alleged police brutality.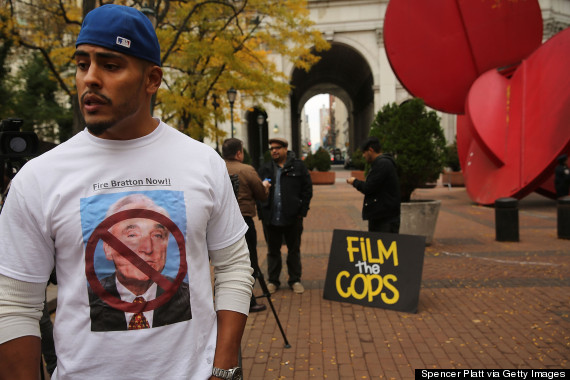 Trujillo after the press conference at One Police Plaza in lower Manhattan. (Photo by Spencer Platt/Getty Images)
Trujillo and other advocates criticized Bratton's embrace of so-called "broken windows" policing -- the strategy of aggressively targeting low-level crimes as a means of deterring more serious crime. Critics at the protest pointed to academic research showing no link between "broken windows" policing and crime reduction. They also cited a recent report showing the stark racial disparities when it comes to low-level arrests in New York.
That report, released last week by the John Jay College of Criminal Justice in Manhattan, showed that the number of blacks arrested for misdemeanors rose to 104,659 in 2013, a jump of nearly 90 percent from the 56,152 blacks arrested for such crimes in 1990. Meanwhile, only about 29,000 whites were arrested for misdemeanors in 2013 -- a slight uptick from the 21,815 whites arrested in 1990.
"Broken windows" policing came under intense scrutiny after the choking death of Eric Garner in Staten Island this summer. Garner was being arrested for allegedly selling untaxed cigarettes when an officer put him in a chokehold, a maneuver banned under NYPD rules.
Ephraim Cruz, a retired NYPD officer, was one of the protesters outside One Police Plaza Wednesday. He said the department has "moved away from community policing where beat cops are interacting with the community," and toward a system where cops are preoccupied with petty crimes like subway dancing and possession of small amounts of marijuana.
"We cannot address crime by criminalizing New Yorkers," he said.
Cruz also said he's spoken to current police officers who are frustrated with the "broken windows" approach. Arresting people for petty crimes, he said, can needlessly escalate situations and put cops in danger.
Robert Gangi, director of an advocacy group called the Police Reform Organizing Project, said Wednesday that cops are only rewarded for ticketing and arresting people -- not for handing out warnings and admonitions.
Cops, he said, aren't responding to citizen complaints when they're making arrests. Rather, they're just trying to meet a quota. (The NYPD maintains that it does not use arrest quotas, which are illegal under state law, but Gangi's group claims the practice is ongoing.) Gangi said it's time for de Blasio to make some swift reforms to the NYPD.
"'Broken windows' policing is Bratton's brand," Gangi told reporters. "We don't expect him to change the way 'broken windows' policing is applied in New York City."
"But de Blasio can," Gangi added. "And he should take that step."
Trujillo told reporters that "the mayor needs to take responsibility," warning that if de Blasio doesn't replace Bratton soon, New Yorkers Against Bratton could "quickly become New Yorkers Against de Blasio."
That de Blasio has failed on his promise to reform the NYPD is a view shared, somewhat unexpectedly, by former NYPD Commissioner Ray Kelly.
"There's been relabeling, but there really hasn't been significant change, even though that's not what you would have gotten from the mayoral campaign last year," Kelly said last week, according to Capital New York. As a candidate, de Blasio had promised that his NYPD would look very different from Kelly's.
The only activist Wednesday to express real disappointment over Banks' resignation was Dennis Flores, who runs the police watchdog group El Grito de Sunset Park. It was Banks who showed up at a Sunset Park town hall last month, an event organized by Flores after two viral videos showed incidents of alleged police brutality in the Brooklyn neighborhood.
Flores said that Banks promised him the officers involved in those incidents would be held accountable. But now, he said, those promises mean nothing.
"The man who heard our concerns is gone," said Flores.
Before You Go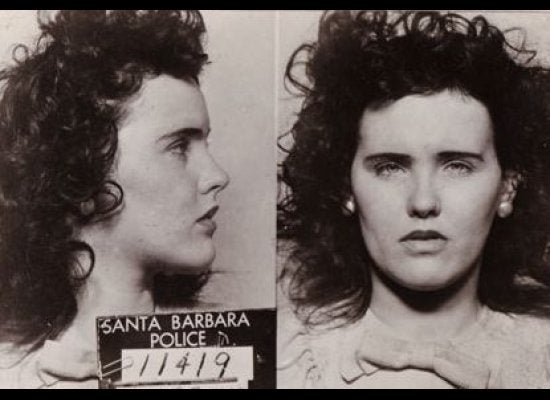 10 Major Crimes That Shocked the Nation (SLIDESHOW)
Popular in the Community