New York City Police Commissioner William Bratton will retire in September, Mayor Bill de Blasio announced Tuesday.
He will be replaced by NYPD's Chief of Department James O'Neill.
Bratton, who was appointed by de Blasio in 2014, previously said he planned to step down by the end of 2017. He will take a job in the private sector.
Under Bratton, there's been a dramatic reduction in the use of stop-and-frisk by New York police officers and crime levels are at historic lows. But Bratton's latest tenure at the top of the NYPD ― he previously served as commissioner from 1994 to 1996 ― has also been marked by the police killings of unarmed black men like Eric Garner and Akai Gurley.
"It's a crisis in America at this moment," Bratton said Tuesday of race relations in the country. He added that he's "reluctantly" resigning.

"I wish I had more time chronologically," he said.
Bratton's career saw the rise of the so-called broken windows theory, which he championed as former Mayor Rudy Giuliani's police commissioner. Under that strategy, officers aggressively enforced low-level offenses like vandalism to reduce New York's high crime rate. But that model has been criticized for disproportionately targeting African-Americans and Latinos.
"Bratton leaves behind a complicated legacy: while he started the NYPD down the road to curbing its worst stop-and-frisk excesses and abuse, he is also the architect of broken windows policing, which has caused similar harms to many of the same communities," said Center for Constitutional Rights attorney Darius Charney in a statement.
De Blasio on Tuesday praised Bratton as he prepared to exit the department. Bratton's contributions "are literally inestimable and extraordinary," de Blasio said, though he also noted "that work has a long way to go" to improve the NYPD's relationship with residents around the city.
The mayor said Bratton notified him on July 8 that he would resign, and that recent protests and investigations into alleged corruption had nothing to do with the announcement.
Bratton drew the ire of civil rights advocates when he criticized the Black Lives Matter movement as "leaderless" and called on protesters to stop "yelling and screaming" at police.
"Unlike the civil rights movement, which focused on the broad needs of desegregation and a segregated country, the needs of jobs, the needs of voting rights, the needs of education, the Black Lives Matter movement has focused entirely on police, and is not engaging in dialogue, instead engaging in protests where there's a lot of yelling and screaming," Bratton told WABC radio last month.
About 200 protesters, many allied with the Black Lives Matter movement, called for Bratton's ouster in a rally Monday in Manhattan's City Hall Park. They also called for the defunding of the NYPD.
O'Neill, who joined the department in 1983, helped direct its attempt to improve strained relations with communities, de Blasio said.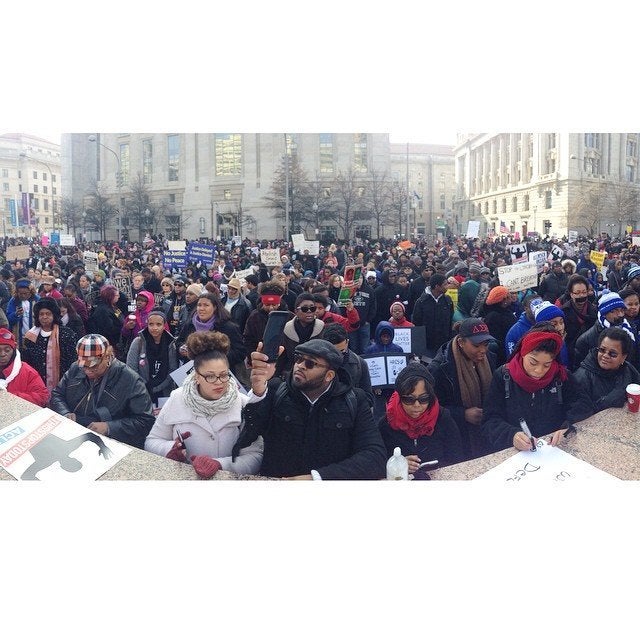 Powerful Black Lives Matter March In Washington