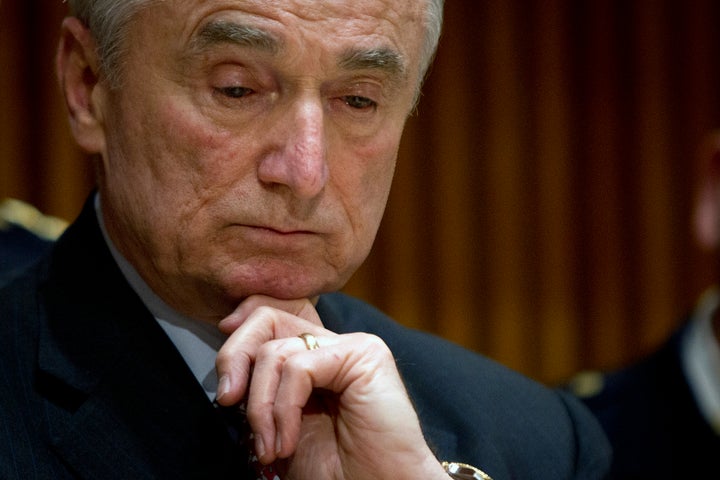 New York City Police Commissioner Bill Bratton announced Monday that he will leave his post by the end of 2017.
"When I find the right time, that's when there'll be a consultation with the mayor. I'm not worried about getting kicked out of the place, fortunately," Bratton told reporters in a press conference.
New York City Mayor Bill de Blasio appointed Bratton in 2014, largely to help mend relations between the police and marginalized communities. Bratton also served as commissioner from 1994 to 1996. 
His most recent stint as commissioner has seen a dramatic decline in controversial stop-and-frisk interrogations, which disproportionately target black and brown New Yorkers, but has also been marked by the high-profile deaths of unarmed black men, including Eric Garner and Akai Gurley. 
Bratton has also come under fire for making disparaging remarks about black Americans.
Although he once acknowledged that police are to blame for the "worst parts" of black history, he has described Black Lives Matter as a "leaderless crusade" that exhibits a "different kind of bigotry." 
The report, officially titled "The Negro Family: The Case for National Action," has been criticized for decades for portraying female-led, single-parent families and out-of-wedlock births as contributing to crime and the low social standing of black Americans.
"There is something going on in our society and in our cities," Bratton said in an interview with MSNBC's "Morning Joe" in September. "I had the occasion over the weekend to read Senator Moynihan's famous treatise from the '60s. Go read that again. Talk about being prescient about what was going to happen, in black society, in terms of ... the disintegration of family, the disintegration of values, and it's gone beyond just the black community."
Garner's death ― one of the major inspirations for the Black Lives Matter movement ― focused attention on Bratton's strategy of "broken windows" policing, which is premised on the idea that aggressively targeting low-level disorder prevents more serious crime. This policing tactic disproportionately ensnares black and brown New Yorkers in the criminal justice system. 
An NYPD officer killed Garner, 43, in 2014 during an arrest for selling untaxed "loosie" cigarettes, a typical broken windows offense.
Bratton has often been at odds with de Blasio, as well as with the mayor's wife, Chirlane McCray, both of whom have expressed support for Black Lives Matter. De Blasio was voted into office on the promise of police reform. 
"The very phrase, Black Lives Matter, is a necessary part of the national discussion. It has helped us recognize that, sadly, our history over and over again did not value African-Americans," the mayor said in a press conference earlier this month.
The mayor's previous statements on race and policing prompted a crowd of police officers to turn their backs on him during the funeral of two fallen officers.
Should de Blasio win his bid for re-election next year, he'll get another chance to appoint a new top cop. Even Bratton believes his successor should have experience in police relations with minority communities, a potential signal that Chief of Department James O'Neill could be considered for the job.
O'Neill has been lauded for his efforts to increase positive relations between officers on the force and community members.
Christopher Mathias contributed reporting.
REAL LIFE. REAL NEWS. REAL VOICES.
Help us tell more of the stories that matter from voices that too often remain unheard.