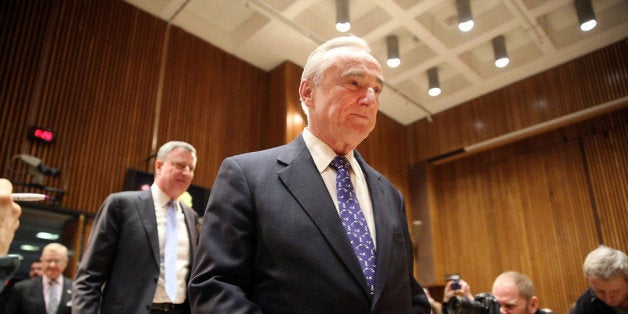 Only two weeks into his position as top cop, NYPD Commissioner Bill Bratton says the police practice of stop and frisk in New York City has been "more or less solved."
The Daily News reports Bratton was speaking before members of the Local Initiatives Support Corporation Wednesday when he said that in some neighborhoods, the police tactic had been halted "altogether."
"To give you some idea, in the fourth quarter of 2012, the department recorded a little more than 90,000 stops," he explained. "In the fourth quarter of 2013, that number fell to 12,300. In 2011, the peak year for use of this tactic, the NYPD conducted 694,000 documented stops. In 2013, the figure was about 194,000. So, clearly it is in decline and I believe that is a good thing."
Last year a federal judge ruled that the NYPD's use of stop and frisk was unconstitutional, and ordered a federal monitor to oversee the police department. Mayor Michael Bloomberg appealed the ruling. Mayor de Blasio, who took office earlier this month, has said he'll drop the appeal.
De Blasio's victories in the Democratic primary last September, and then over Joe Lhota in November, have been attributed partly to his promises to reform stop and frisk and build better relations between communities of color and police.
So when de Blasio appointed Bratton as commissioner it came as a surprise to some stop-and-frisk critics. New York's aggressive regimen of stop and frisk, after all, had been started by Bratton during his previous term as commissioner.
During the first 10 years of Mayor Bloomberg's time as mayor, police stops rose 600 percent. The vast majority of those stopped were black or Latino.

Related
Popular in the Community