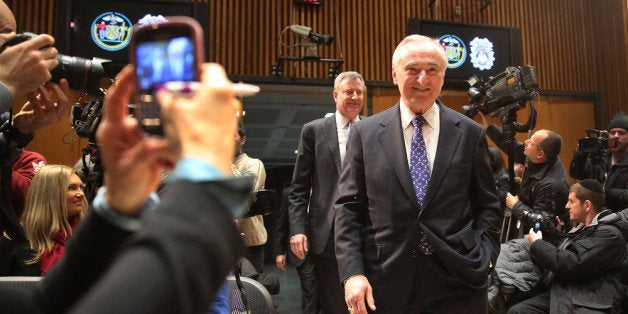 NEW YORK -- William Bratton was sworn in as New York City's police commissioner on Thursday afternoon, marking the start of his second term at the helm of the city's police department and his first under progressive new mayor Bill de Blasio.
De Blasio surged to prominence in polls this summer as he promised to end what he described as an era of abuse and racial discrimination in the nation's largest police force. But civil-liberties advocates and black and Latino community leaders have stopped short of applauding his choice for top cop.
Bratton, who oversaw a precipitous drop in the crime rate when he led the New York City Police Department from 1994 to 1996, faces a number of questions this time around, including: Will he be able to change the controversial practice known as stop and frisk, a strategy he aggressively implemented during his first term? Can he improve relations between the NYPD and communities of color, which were hardly warm the last time he was in charge?

On Thursday, Bratton posed a question of his own from the dais at 1 Police Plaza in downtown Manahttan. "Who says you can't go home again?" he asked. New York "is home," he continued, "and it is great to be back."
Whether New Yorkers ultimately feel the same way about his return may depend on how he adapts to the needs of a city that has changed dramatically in the last two decades.

In 1994, New York's crime rate soared and police were widely perceived as ineffectual, if not corrupt. Bratton took a brash stand against corruption, at one point personally collecting the badges of two officers involved in a scandal. He introduced CompStat, a computer system that can be used to pinpoint crimes and arrests as they occur, allowing commanders to hold officers accountable for the crime rates in their precincts. And he is widely considered the first to apply the "broken windows" theory, which holds that police can sweep guns and serious criminals off the streets by punishing even the smallest infractions, like vandalism, trespassing and turnstile hopping.

This tough approach is now standard fare in police departments around the country, but in 1994 it was novel, even revolutionary. Bratton's triumphs influenced police forces throughout the United States and overseas, and his successors in New York have largely followed the Bratton template. Today, New York's murder rate is the lowest it's been in recorded history.

But as the crime rate has dropped, the NYPD has faced accusations of racial discrimination and police brutality, a trend that some observers trace to Bratton's aggressive style. According to police statistics in a 1996 report by Amnesty International, the number of civilians shot dead by police during his first year as commissioner increased to 31 from 23 the year before, and the number of civilians who died in police custody rose from 15 to 23.
Bratton also faced criticism for the instrumental role he played in ramping up the use of stop and frisk, the practice of stopping and patting down people deemed suspicious. Advocates for civil liberties and racial justice say police often use the technique inappropriately, primarily stopping black and Latino people on flimsy pretenses, and arresting them on trivial charges, mostly for possession of small amounts of marijuana.

Although Bratton has staunchly defended the practice, he has suggested that the department took it to a dangerous extreme in his absence. At the ceremony Thursday, he professed a commitment to getting "every member" of the NYPD to treat all New Yorkers with respect, "regardless of their background, their class, their race."

"Why is it," he went on to ask, "that so many in this city do not feel good about this department that has done so much to make them safe? What is it about our activities that have made so many alienated?"

Malachi Epps, a 24-year-old black New Yorker who belongs to VOCAL-NY, a group that advocates for progressive drug policies, offered an answer after the ceremony wrapped up. "It's because people like me are routinely harassed by the police, and see our peers disproportionately targeted and arrested for low-level violations like marijuana possession," he said.

"I hope that with a de Blasio administration," he added in an email, "we will finally have the leadership necessary to close this era of rampant abuse and mistrust."
Calling all HuffPost superfans!
Sign up for membership to become a founding member and help shape HuffPost's next chapter