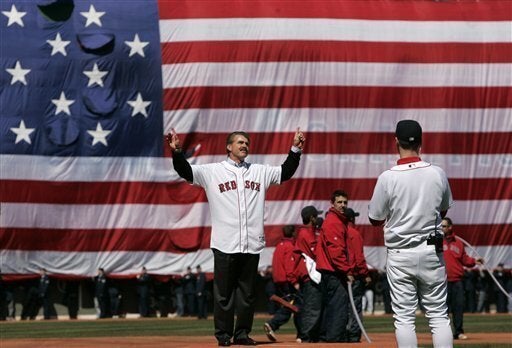 From the Eagle-Tribune: Other than Carlton Fisk waving a home run inside the foul pole after midnight or Jonathan Papelbon jumping 3-feet high in the mile-high Colorado air, a World Series game couldn't touch this one.
Bill Buckner, the one Red Sox alum who exemplified, cruelly, 86 years of misery, curses and outright choking, came home. This time, though, Buckner, a former Andover resident, was the only one shedding tears.
Nearly 37,000 fans gave the former first baseman, who strolled slowly from the left field garage door in front of the Green Monster to the pitching mound to throw out the first pitch in yesterday's Red Sox home opener, a five-minute standing ovation.
Buckner's emotional moment came after the Red Sox players received their jewel-studded World Series rings and the 2007 championship flag was raised in center field.
Watch Buckner's emotional return to Fenway Park, where he threw out the first pitch.
Watch the famous play from the 1986 World Series, where Buckner let a slow ground ball hit by the Mets' Mookie Wilson roll through his legs, costing the Red Sox the game.
The Seattle Times has more here.
Related
Popular in the Community