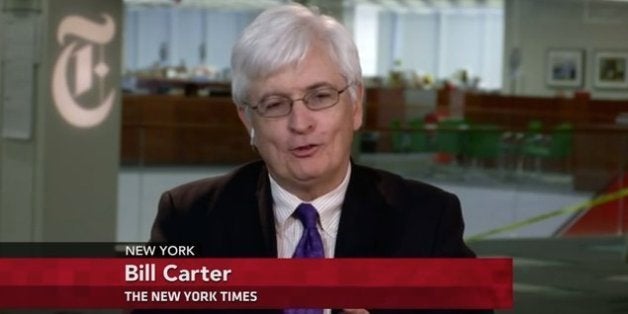 NEW YORK –- Bill Carter, who has covered the television industry at The New York Times for more than 25 years and remains one of the best known writers in the industry, is taking a voluntary buyout.
Carter told The Huffington Post that leaving the paper was a "really wrenching and agonizing decision."
The Times is seeking 100 employees to take buyouts by 5 p.m. on Monday, with layoffs possible if that number isn't reached. The buyout package is particularly attractive for veteran staffers, with non-management employees receiving three weeks' salary for every year worked at the paper. Those who have worked there for at least 20 years are also eligible to receive an additional 35 percent of the total severance.
"I went through a long process, but I couldn't square passing up what amounts to the best kind of severance at a newspaper job," Carter said.
Carter joined The Times as media reporter in 1989, after spending fourteen years as television critic for the Baltimore Sun.
Beyond his Times coverage, Carter is perhaps best known for his 1994 book, The Late Shift. The bestseller, which depicted the late-night battle between David Letterman and Jay Leno, was the basis for an HBO film of the same name. Carter wrote The War for Late Night in 2011 following the Leno-Conan O'Brien debacle at NBC.
Carter told HuffPost that he has a contract for another book on late-night television and is looking for a new job.
"I love this job and I love the Times," Carter said. "I would never do this under other circumstances. I feel the economic pressure to do this."
Capital New York, which has reported that several other Times veterans have already accepted the buyout, is keeping a running tally of departures.
David Carr, a colleague of Carter's on the media desk, wrote in a Monday column that "it seems clear that we will be losing people with many decades of professional experience, journalists with deep sources and remarkable levels of productivity."
"We need to adapt quickly to new protocols, but we can't lose the core, the journalism that makes The Times The Times," Carr added.
The current round of buyouts is the fourth since 2008. The Times has consistently increased newsroom staff following previous rounds -- the headcount was 1,332 when the current round was announced, two people more than in early 2008 -- and it will keep hiring after this one as well.
In October, a Times spokeswoman told The Huffington Post that the paper is "continuing to invest in areas where we see future growth potential and that includes hiring." Those areas include digital, video, mobile and audience engagement.
CORRECTION: An earlier version of this article incorrectly stated that employees taking buyouts would receive one week's salary for every year worked at the paper. They will receive three weeks' salary.
Related
Popular in the Community