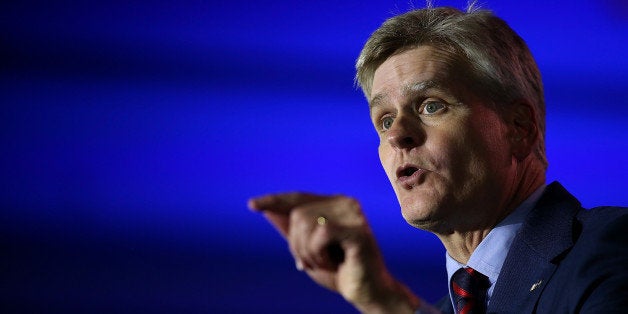 The National Republican Senatorial Committee went after Sen. Mary Landrieu (D-La.) last year for being late to pay taxes on her home in Washington, D.C. But Landrieu's NRSC-backed Senate opponent, Rep. Bill Cassidy (R-La.), made the same mistake this year.
According to public documents from the District of Columbia Office of Tax and Revenue, Cassidy had to pay penalties in 2011 and 2014 for twice failing to pay property taxes on time for his D.C. condominium.
"Mary Landrieu's campaign slogan must be, 'Do as I say, not as I do,'" Dayspring said in a statement at the time. "Senator Landrieu wants hard working Louisianans to send more money to Washington for President Obama to spend, but got caught failing to pay her fair share of taxes on her DC mansion. Senator Mary Landrieu's mansion tax avoidance is the latest case of powerful Democrats in Washington trying to force the people to do one thing as they do another."
Cassidy's tax delinquency does not seem to bother the NRSC as much. Reached for comment, a spokeswoman for the group pointed out that Landrieu had to pay $1,154 in penalties and interest on her D.C home, more than the $96 Cassidy had to pay in 2011 and the $259 he had to pay this year. And Cassidy's first delinquent payment, the spokeswoman noted, may have been the fault of the previous owner of his D.C. condo, which the congressman purchased in the middle of 2010.
"The severity and frequency of Mary Landrieu's delinquent tax payments on her Washington, DC mansion is just another ethical problem to add to a very long list," the NRSC spokeswoman, Brook Hougesen, told HuffPost in an email.
Cassidy's campaign did not respond to a request for comment. Landrieu's campaign could not immediately be reached, but her spokeswoman Amber McDowell said when the tax issue first came up that the senator and her husband "believed that property taxes on their DC residence were paid in full by the required due date of Sept. 15, 2012."
"They found out earlier this month that that wasn't the case, and have worked with their attorney to satisfy the outstanding balances," McDowell said in a statement. "A final payment has been submitted to the DC government to resolve this issue."
HuffPost Pollster's average of the race, which combines all publicly available polling, shows Landrieu and Cassidy nearly tied. Tea party-backed candidate Rob Maness and state Rep. Paul Hollis (R-Covington) are also running in the November open primary, hoping to peel votes away from Cassidy.
REAL LIFE. REAL NEWS. REAL VOICES.
Help us tell more of the stories that matter from voices that too often remain unheard.
BEFORE YOU GO
PHOTO GALLERY
Women In The U.S. Senate