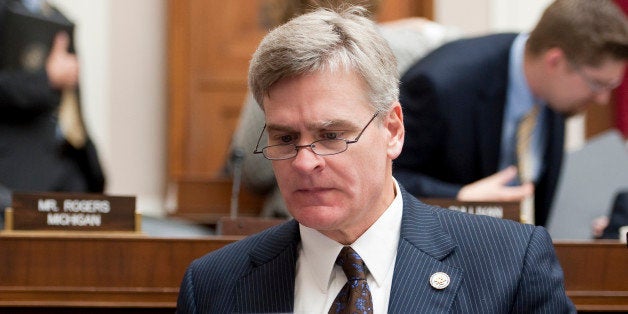 WASHINGTON -- As Congress begins to move forward on legislation to address the problems at the Department of Veterans Affairs, Rep. Bill Cassidy (R-La.) is laying much of the blame for Congress' not doing more sooner at the feet of Senate Democrats.
"It's been more than 177 days since the House passed bipartisan legislation that would authorize these VA clinics," said Cassidy in a statement. "Only after news broke that our veterans are dying because of inadequate healthcare did [Senate Majority Leader] Harry Reid and Senate Democrats take action."
Cassidy was referring to HR 3521, which authorized funding for 27 VA facilities.
Funding to build or expand 26 VA facilities is included in the Senate's new comprehensive bipartisan legislation, which is being spearheaded by Senate Veterans' Affairs Committee Chairman Bernie Sanders (I-Vt.) and Sen. John McCain (R-Ariz.). That bill comes a week after VA Secretary Erik Shinseki resigned in response to reports that employees were covering up the inexcusably long delays that veterans faced in getting treatment at VA facilities around the country.
But contrary to Cassidy's statement, this isn't the first time the Senate has acted on the issue.
In February, Sanders also introduced comprehensive VA legislation that included funding for 27 facilities. The reason it didn't move forward is that Republican senators raised a budget point of order and insisted it obtain 60 votes to proceed. The legislation failed 56-41, with all the nay votes coming from the GOP. Two Republicans -- Sens. Dean Heller (Nev.) and Jerry Moran (Kan.) -- joined with the Democratic majority to support it.
At the time, Sen. Richard Burr (R-N.C.) said, "With $17 trillion in debt and massive annual deficits, our country faces a fiscal crisis of unparalleled scope. Now is not the time, in any federal department, to spend money we don't have."
Burr added that there was "much to like in the Sanders bill" and if those elements were "presented as separate, smaller bills," then he could perhaps support them.
Cassidy made a similar point in April, saying Sanders should "abandon his all-or-nothing, hostage taking approach" and instead consider separate bills, as the House tends to do.
The Senate's latest action to authorize new and improved VA facilities is also part of a comprehensive package -- very similar to what Republicans rejected in February and what Cassidy was upset about then.
The congressman's office did not return a request for additional comment. He is running for the GOP nomination to challenge Sen. Mary Landrieu (D-La.), and he's considered to be the frontrunner in his primary.
The new Sanders-McCain legislation would authorize $500 million to hire more doctors and nurses, improve access to health care for military sexual assault survivors, give the VA secretary greater flexibility to fire employees for incompetence and allow veterans to go outside the VA system for care in certain circumstances.
As The Washington Post noted, the measure would be paid for "with emergency supplemental spending that exceeds budget limits approved earlier this year -- a move that might keep dozens of fiscally conservative Republicans from supporting the deal."
Calling all HuffPost superfans!
Sign up for membership to become a founding member and help shape HuffPost's next chapter
BEFORE YOU GO
PHOTO GALLERY
Veterans Affairs Secretaries