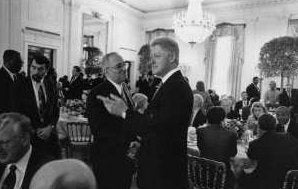 The recent coverage of Rev. Jeremiah Wright has often cast him as a marginal, almost fringe figure, but Trinity Church is a major Chicago institution, and Wright has long been a prominent pastor on the American scene.

And an anonymous blog set up to defend his church offers some compelling photographic evidence of this: A photograph of Wright and President Clinton, which it says was taken on September 11, 1998 -- the date of a White House gathering for religious leaders.

Hillary Clinton, according to her recently-released schedule for the day, was present at the gathering.

That's where Clinton reportedly told the assembled clerics, at the depth of the Monica Lewinsky scandal, that he had "repented."
Clinton Campaign Statement:
Less than 48 hours after calling for a high-minded conversation on race, according to the New York Times the Obama campaign is peddling photos of an occasion when President Clinton shook hands with Reverend Wright. To be clear, President Clinton took tens of thousands of photos during his eight years as president.
Obama Campaign Statement:
After their top surrogates pushed this story line and Senator Clinton's campaign outlined this as a central strategy in her plan to overturn the will of Democratic voters, I can see why they wouldn't want such a photo out there that shows the respect even President Clinton has for Reverend Wright.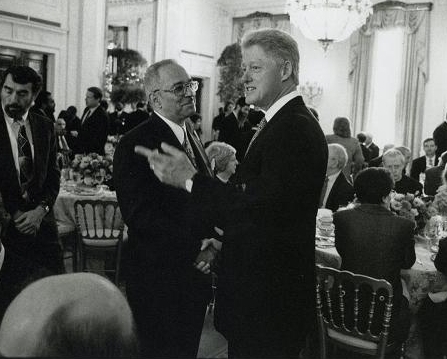 Popular in the Community