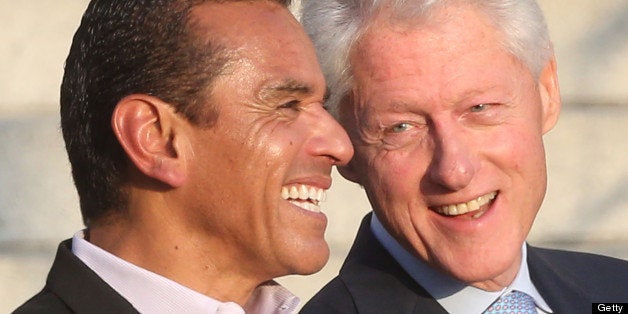 It was billed as L.A.'s ultimate block party, but the Celebrate L.A. event at City Hall on Friday was as much as about saying farewell to Mayor Antonio Villaraigosa as a salute to the diversity of the city.
Villaraigosa used the event, on the Spring Street steps of City Hall at Grand Avenue Park, to thank residents for his eight years as mayor as the crowd of several thousand also heard from former President Bill Clinton and Mayor-elect Eric Garcetti.
"I want to thank you for the honor you gave me of being your mayor," Villaraigosa said. "This has been an opportunity of a lifetime."
Villaraigosa reflected on his own life -- kicked out of one high school and dropping out from another before returning to graduate.
And, he said, if it was not for affirmative action programs, he would not have been able to go to UCLA.
"I often say I might have got in through the back door, but I came out through the front door," Villaraigosa said.
Clinton also praised the mayor for the way he approached the position.
"He looked at this as a job," Clinton said. "Yes, there are times like this, times of celebration. But the mayor never forgot that it was a job."
Clinton praised Villaraigosa for overseeing the city as it saw historic drops in crime as well as his work on transportation, the environment and schools.
"He was faithful to the oath he swore to serve the city and the city, the state and the nation are better off for it."
Garcetti thanked the mayor for the work he put in to the job and now, that he is leaving, for the cooperation in the transition of their administrations.
Singer Stevie Wonder made a surprise appearance to entertain at the event that also included Placido Domingo, Pepe Aguilar and comedian Wanda Sykes. Ryan Seacrest served as master of ceremonies.
The South Lawn of City Hall was sealed off as a VIP area, where food and drinks were provided to an estimated 400 invited guests.
Celebrate L.A. normally is an annual event held to mark the culmination of heritage months honoring the different communities that make up the city, from African-Americans, Asian-Americans and Pacific Islanders, Latinos, Native Americans and the lesbian, gay, bisexual and transgender community.
Several children's groups joined with the professional entertainers to perform.
The party drew some criticism over its cost, an estimated $265,000. Most of the funding came from private donations or in-kind services, but the city also provided $75,000 in donations and services.
Villaraigosa defended the event as being a celebration of the different communities that make up the city. ___
(c)2013 the Daily News (Los Angeles)
Distributed by MCT Information Services
Before You Go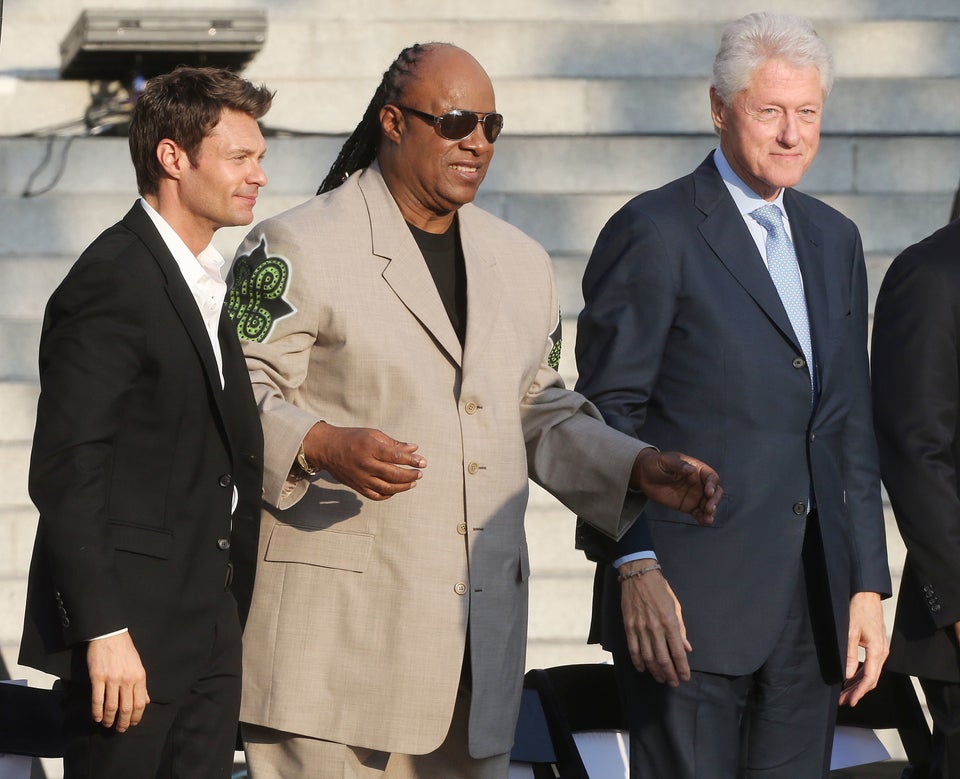 President Bill Clinton Pays Tribute
Popular in the Community