Bill Clinton returned to New Hampshire Wednesday night on the 30th anniversary of his first visit to the state, like an old friend returning home, for a speech to the New Hampshire Democratic Party Jefferson Jackson Day Dinner.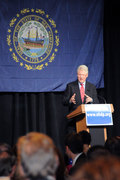 "They haven't yet delivered on the promises made during the campaign. They've stopped the hemorrhaging but haven't started the rebuilding," Clinton said of the Obama Administration. "I've seen this movie before. It's the same thing they were doing to me. Aw, he's a one termer. He's washed up."
Clinton said the three huge problems that exist are inequality, instability and unsustainability. The 42nd President focused on the need for energy independence to create jobs, save money and achieve national security interests.
On Afghanistan, Clinton said he supported Obama's plan. "How they behave there and what they do is unknowable. You start off playing an away game and you only have to play an hour... If there is no time limit on an away game, the home team wins. To win, you have to convert it to a home game." Clinton said the surge in Iraq succeeded because insurgents were getting their heads cut off. "Our guys got better, but also the people were empowered and sick of the thugs," and it became a home game for our troops.
"Health care is the economy. I talked to Senators. I've spent more time of this since I left office than when I was in it." Clinton said, 'We'd be better off with any of these bills."
"What turned the 1994 election from a minor loss was attention deficit disorder and discouragement." He urged Democrats to "fight the false charge. We got hired to answer the how question."
On daughter Chelsea's engagement, Clinton said it is, "My first step on the way to becoming a grandfather."
"I would not have become President without New Hampshire and you know it. Hillary and I will never be able to thank you for three magical days in 2008." Clinton said, referring humbly to Hillary Clinton's surprise Primary win in 2008 over Barack Obama, in a venue filled with cheering supporters.
Popular in the Community