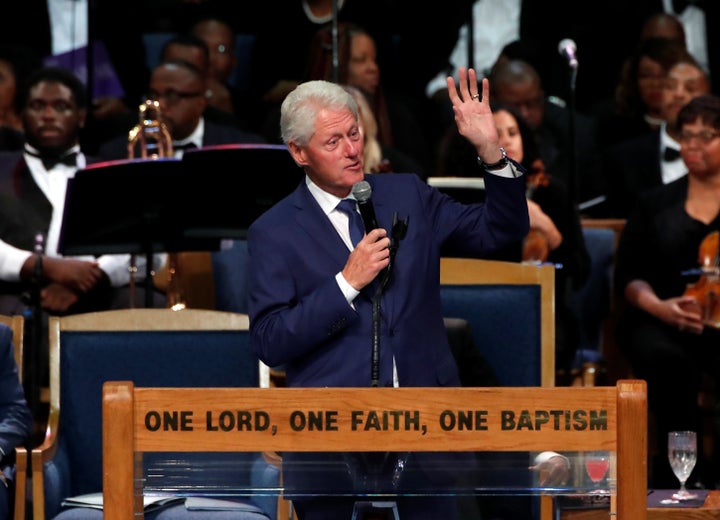 Bill Clinton never worried about the timing of his "comeback" in the face of accusations of sexual misconduct. The former president never left the public stage, even after several women credibly accused him of a range of predatory behaviors, from harassment to groping to rape.
He's stuck around even now, in the so-called Me Too era, when those accused of sexual misconduct are supposedly made to turn tail and slink out of public view.
On Friday, Clinton turned up at Aretha Franklin's funeral in Detroit and performed one of his hallmark roles ― consoler-in-chief. His voice creaking with age and his hair blazing white, Clinton moved the audience to laughter, tears and applause as he remembered the iconic singer. No one questioned his right to appear onstage; after all, the former president has a long history with the Queen of Soul.
Clinton's appearance stands in sharp contrast to the state of affairs this week for comedian Louis C.K., who showed up for a 15-minute set at a club in Manhattan, just nine months after he admitted to exposing himself and masturbating in front of several women without their consent.
Louis C.K. was forced to cancel a film and a production deal as a result, and promised to "step back" from public view and "take a long time to listen" in a statement he made last November.
His stand-up act last weekend was greeted with a standing ovation by the small audience, but many saw it as premature: a slap in the face to the women he'd mistreated, whose careers were sidelined for pushing back against the well-known comedian, and to the fans he'd let down.
Louis C.K. was known for what seemed like bracing, personal honesty in his comedy, but he reportedly did not wrestle with his transgressions during his act. He did reportedly make a joke involving a rape whistle.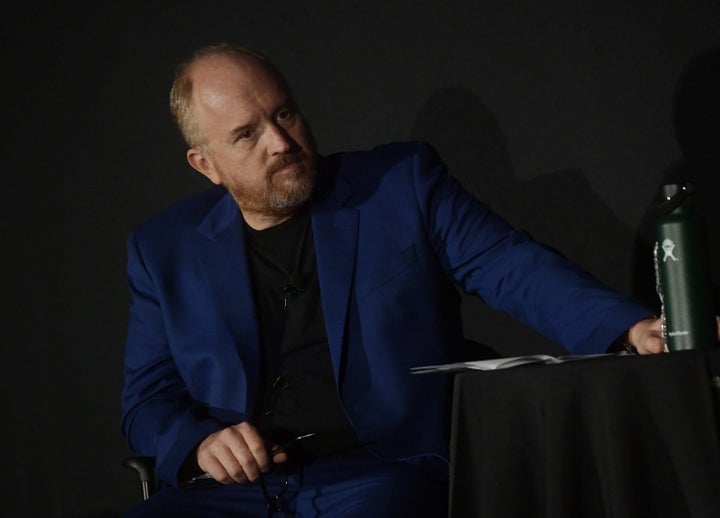 Not everyone was outraged. As has been the case over the past year and a half, there were those who decried the injustice of a man not being allowed to move on with his life. "How long must a sexual predator be 'punished'?" they argue ― even though sitting at home, with ready access to their comfortable bank accounts, is hardly like lockup at Rikers, as New York Times critic Amanda Hess pointed out.
Yet for all the agonizing about what to do with the "banished" men, Clinton's appearance is a powerful reminder that most of the accused never went anywhere.
Indeed, seemingly the only person who had to stage a comeback from the Clinton drama was Monica Lewinsky, who returned fully to the public eye on her terms in 2015 ― nearly a decade and a half after Clinton left office ― with a widely watched TED Talk.
But you don't have to go back to the Clinton era to find sexual predators who were never forced out of public view: Nearly a third of the most high-profile executives and celebrities accused of misconduct since 2015 still have their jobs, according to data compiled by New York crisis consulting firm Temin & Co.
Les Moonves, the chief executive of CBS Corp., is still ensconced at the network. In the five weeks since The New Yorker exposed his history of serious sexual harassment, he hasn't been suspended or disciplined.
The truly powerful are hard to dislodge, even for a momentary timeout.
And once again, you need only look at the occupant of the White House for further proof. President Donald Trump stands accused by more than a dozen women of misconduct, and, as we all know, he has hardly spent a second out of public view since.
Popular in the Community