PHILADELPHIA ― A quarter-century after winning his party's nomination for the presidency, Bill Clinton took the Democratic National Convention stage to tell a story on the night his wife officially won it herself: 
"In the spring of 1971, I met a girl."
And so began the 42nd president's push to make Hillary Clinton the 45th president, with an attempt to humanize a woman whom American voters don't like or trust. While most voters likely associate Hillary Clinton with "email server" or "Whitewater" or the other controversies Republicans like to talk about, Bill Clinton spent 43 minutes ― a short speech, by his standards ― explaining the small details of their courtship, of becoming parents, of dropping their daughter off at college where Hillary busied herself with laying liner paper in Chelsea's dorm-room dresser drawers.
"We've built up a lifetime of memories," he said.
He interspersed the personal stories with praise for his wife's work ethic and attention to detail, and tried to turn her difficulty in delivering an entertaining speech into a virtue.
"Speeches like this are fun. Actually doing the work is hard," he said, as he explained how Hillary had put together a package of reforms to improve the public schools as first lady of Arkansas and later pushed through the federal Children's Health Insurance Program that remains today.
And it was that effectiveness, someone who can make government work, the former president said, that so terrified her political opponents who ultimately want to cut government. "If you win elections on the theory that government is always bad and will mess up a two-car parade, a real change maker represents a real threat," he said.
Clinton said that is why the real Hillary Clinton is so different from what was described by Republicans in their convention last week.
"What's the difference from what I told you and what they said? How do you square it? You can't. One is real. One is made up," he said, explaining that Republicans had no choice. "Your only option is to create a cartoon, a cartoon alternative. They're running against a cartoon."
Clinton's testimonial continues the role reversal the two began in the final year of his presidency, when Hillary Clinton started her own political career after some 25 years of standing by Bill's side during his rise from Arkansas attorney general to governor to president.
The party and nation Bill Clinton addresses on behalf of his wife, of course, is a world apart from the one he spoke to during his nominating convention in 1992. Democrats had won only three of the previous 10 presidential elections, and one of those was Jimmy Carter's post-Watergate victory in 1976.
Democrats like Bill Clinton thought that only by appealing to more conservative voters could they break the Republicans' lock on the Electoral College. And, with the third-party run of Ross Perot peeling away Republican votes, that's what he managed to do, winning Louisiana, Georgia, Tennessee, Kentucky and West Virginia, as well as his home state of Arkansas.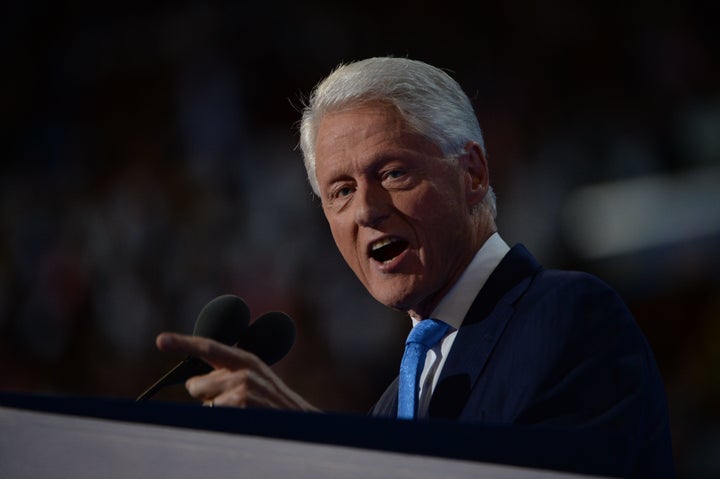 Six elections later, Hillary Clinton will probably not win any of those states. She doesn't need to, thanks to the increase in black and Latino voters in California, Florida, Virginia and elsewhere.
"Bill Clinton was a Blue Dog. He was more conservative ― he had to be to win, but the party is being much more liberal," Michigan delegate Rebecca Bahar-Cook said. "It's becoming much, much more progressive and I think that's a really cool thing."
"I don't think it's so much the party," New York delegate Maxine Outerbridge said. "I think the question should be put in context as in what's gone on in the world."
Hillary Clinton's historic Tuesday brought with it two associated firsts: Bill Clinton becomes the first potential "first gentleman" based on a nomination of a major party, and the couple would become, should she win in November, the first husband and wife to each serve as president.
Such an eventuality was hinted at, if not held out as a promise, right from the start. During his 1992 run, Bill Clinton advertised his wife's policy chops as a "buy one, get one free" deal. Voters weren't universally thrilled with the notion, and, after the failure of the health care reform effort that she led in 1994, Hillary Clinton's West Wing role was not emphasized much anymore.
Hillary Clinton's political ambitions were kept on ice until the end of Bill Clinton's second term, when she announced she would run for an open Senate seat in New York. Her run for president came after her re-election to a second term, but was thwarted by Barack Obama's improbable campaign.
If Hillary Clinton lands the top job, putting Bill Clinton in an undefined advisory role, Democrats gathered for the convention did not seem worried about potential turf battles.
"Listen, any spouse, my wife, has an awful lot of influence on me. Anyone, whether man or woman, who says the spouse doesn't have influence is crazy," Georgia delegate John Olsen said. "At the end of the day, it's always the president's decision. But there's nothing like having someone to give you a pat on the back or a kick in the butt. And only a wife or a husband could do that."
Clinton now has been an ex-president for nearly twice as long as he was in the Oval Office. For those 16 years, Clinton has remained the most popular Democrat on the campaign trail, surpassed only in recent years by Obama.
Even Obama relied on him four years ago, assigning him the role of "explainer in chief" to talk up the performance of the economy under Obama against Republican attacks. His well-received performance helped Obama open a measurable polling lead over Republican nominee Mitt Romney that remained stable through Election Day.
Clinton's role now reprises his work in 2008, when he was his wife's top surrogate in her first try at the presidency, at times effectively reaching the working-class white supporters who helped him win two terms, but at times creating damaging distractions for the campaign with off-script attacks on her opponent, Barack Obama.
Igor Bobic and Julia Craven contributed reporting. This post has been updated throughout with more details from Bill Clinton's speech and reaction to it.
Calling all HuffPost superfans!
Sign up for membership to become a founding member and help shape HuffPost's next chapter
BEFORE YOU GO
PHOTO GALLERY
Best Photos From The Democratic National Convention