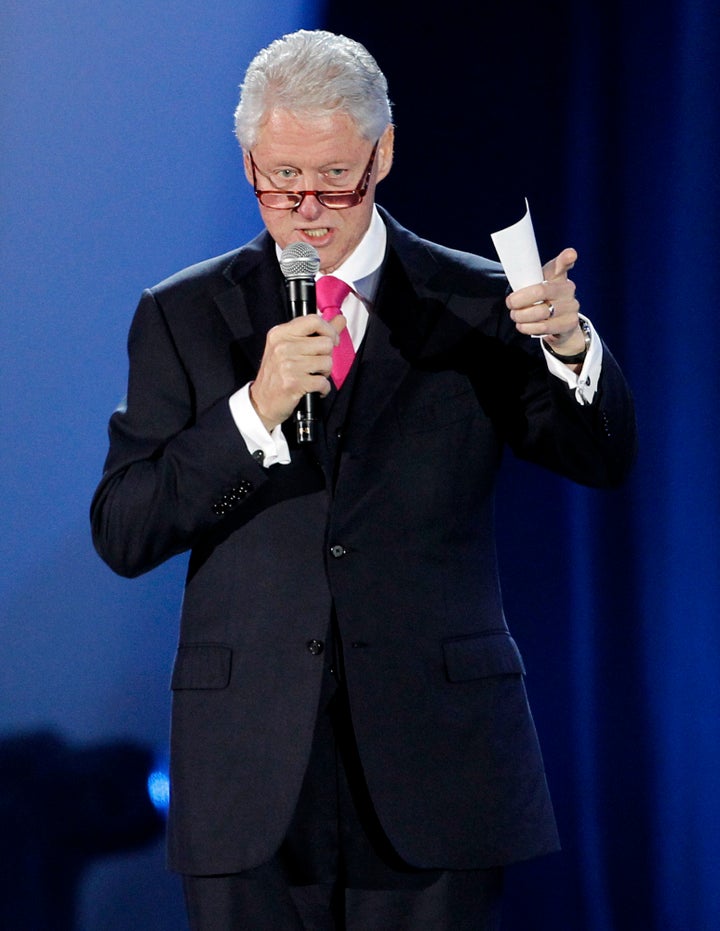 WASHINGTON -- Former President Bill Clinton is teaming up with a top aide, a former State Department envoy, and Tony Blair to start a private equity fund and global consulting company.
Declan Kelly, a former top State Department envoy and major donor to the secretary of state's 2008 presidential campaign, has left government service to launch Teneo Capital, hiring Bill Clinton and the former U.K. prime minister as advisers for an undisclosed sum. Kelly's partner in the venture is Douglas Band, a longtime Clinton aide who set up the Clinton Global Initiative and remains the former president's right-hand man.
Bill Clinton earlier faced questions about whether his business ties would create conflicts for his wife, Secretary of State Hillary Clinton, and vowed to let the State Department sign off on his ventures. Kelly told HuffPost that State has approved Clinton's involvement in Teneo Capital.
"President Clinton is involved purely in an advisory capacity, and his compensation is confidential," Matt McKenna, a Clinton spokesman, told HuffPost. Kelly confirmed that Clinton will be compensated but declined to go into details.
Within the upper ranks of Democrats, such close ties to high finance are more common than the public might expect. For elite Democrats between or retired from public service, working a side gig as a tremendously well compensated consultant to a global investment firm has become routine. And those connections help explain why Democrats, even when they held a super majority in the Senate, couldn't manage to raise taxes on hedge funds or carried interest.
Right off the bat, Teneo Capital seems well-poised to build on its access to and knowledge of Irish government.
During a summit at Ireland's Dublin Castle in October, the former president announced plans to hold a Global Irish Economic Forum in New York in 2012, to be sponsored by Teneo Capital. Gathered at the Dublin summit were Bono, Irish Prime Minister Enda Kenny and Irish Foreign Minister Eamon Gilmore.
Kelly, Teneo Capital's cofounder, was named in 2009 by Secretary of State Clinton to be special economic envoy to Northern Ireland. It was a position originally created in 1995 by President Clinton for former Senate Majority Leader George Mitchell.
In November 2009, Bill Clinton included a session on Northern Ireland at his annual philanthropic event. "Hundreds of business executives packed a ballroom to hear Clinton and Kelly make their investment pitch. The gathering was, Kelly told the crowd, 'a massive assistance to me in my role.' After the session, dozens of executives lined up to talk to Kelly, according to one official in attendance," the Washington Post reported at the time.
Kelly, who was born and raised in Ireland, previously held a senior position at another global communications firm, Financial Dynamics, which was sold in 2006 to the company now known as FTI Consulting. He stepped down in the summer of 2009 from FTI, he said at that time, to pursue "non-commercial opportunities outside the company."
As part of his deal with FTI, Kelly told HuffPost, he had agreed to a noncompete clause that prevented him from establishing a rival firm within two years of leaving FTI. Hillary Clinton had just been named to President Barack Obama's Cabinet and had something to keep him busy.
"When she wasn't successful [in her presidential campaign] and she became secretary of state, she asked me if I wanted to do a stint as an envoy to Ireland, and it came at the right time in my life," Kelly recalled, adding, "So I gave up everything, resigned from the job and agreed to a two-year noncompete, and went to Northern Ireland and did that job for two years. And I resigned in March of this year, and in June we started the new business."
Kelly had been a prolific fundraiser for Hillary Clinton. The Irish Times reported that he bundled close to $2 million in 2007. It later reported that Bill Clinton was planning a trip to Ireland, hosted by Kelly, that was expected to net $300,000 for the campaign. One Iowa event organized by Kelly could have raised $1 million on its own had space not been a limiting factor, the paper said.
As the Northern Ireland envoy, Kelly took no salary from State, he said, but was afforded one staffer in Washington and reimbursed for coach flights across the pond. On his own dime, he said, he hired a staff of five and paid for office space at a cost of $1.4 million, while also giving up potentially millions in salary over the two-year period. Kelly's assertions may sound extreme, but ambassadors and high-level envoys are known to spend heavily with their personal money while in the job. The White House referred questions to the State Department; a spokesman there didn't respond to requests for comment.
Kelly has brought that staff with him to his new investment firm.
Teneo Capital has applied for funding from the Rockefeller Foundation, which has deep ties to the Clintons. It is also exploring creation of a private equity fund, Kelly said. "We don't have an equity fund, and we don't have a hedge fund. We're looking to establish one, but we haven't done it yet," he said.
The Clinton family and Kelly have long been close, Kelly said, adding that he has raised money for the William J. Clinton Foundation as well as for Hillary Clinton's Senate and presidential campaigns. Nonetheless, he said, the envoy appointment was not payback, and he didn't need any help to build access to high-level officials in Ireland that he wouldn't have had otherwise.
"I didn't need the State Department or the U.S. government's help to access the economic elite in Ireland. I have advised four prime ministers in Ireland, all pro bono. I had a business in Ireland for over a decade, I have a home there, I am an Irish citizen and I know virtually every senior business leader in the country," Kelly said. "I've gained no personal benefit from this at all."
Doug Band, Kelly's partner and the Teneo CEO, also has a long relationship with the Clintons. He started with President Clinton in 1995 and has stuck with him ever since. "He has served as President Clinton's chief advisor since 2002, counseling him, serving as the key architect of Mr. Clinton's post-Presidency, and overseeing the 1,400 employees and volunteers of the William J. Clinton Foundation. He continues to serve as President Clinton's most senior advisor," reads Band's bio on the company website.
Moreover, when the Clintons during the transition between the Bush and Obama administrations promised to be open about the former president's philanthropic and for-profit dealings, the arrangement was partly worked out by Band himself. The Wall Street Journal reported at the time, "Inside the Obama transition, the intense vetting for the Clintons, dubbed by some as 'the project,' is being handled by a small circle of close advisers to each side. Representing the Clintons are: Cheryl Mills, a former Clinton administration official and top aide to Sen. Clinton during her presidential bid; Doug Band, counselor to Mr. Clinton; and Bruce Lindsey, chief executive of the William J. Clinton Foundation."
What is remarkable about the relationship between the Clintons and the founders of Teneo Capital, in fact, is just how unremarkable it is. Jon Corzine, who went from Goldman Sachs to the Senate, then to the New Jersy governor's mansion and then back to Wall Street, is just the highest-profile example. And his meteoric crash back to Earth -- Corzine's firm, MF Global, recently filed for bankruptcy amid accusations that it was illegally trading on its own behalf with client money -- is unlikely to slow the revolving door between Washington and Wall Street.
The full list of Democrats who've jumped into the private equity pool reaches high and low. Former Pennsylvania Gov. Ed Rendell, former New Jersey Sen. Bill Bradley, former Gen. Wesley Clark and former Tennessee Rep. Harold Ford all now work for financial firms. Teneo's senior vice president, Tom Shea, was an aide to both Corzine and then-President Clinton and a onetime high-level State Department official.
For former public officials, one benefit of private equity work is that money men -- they're almost always men -- don't need to register as lobbyists, a scarlet letter that can hamper a return to politics or give reporters a paper trail to start following. Rahm Emanuel gets it: After leaving the White House in 1998, he took a job as an investment banker, earning more than $18 million in less than three years. When he ran for Congress in 2002, he wasn't tagged as a lobbyist.
Lower-rung politicians have made the same jump. Eric Gioia, a New York City councilman, ran for New York City public advocate in 2009 but lost in the primary. So he took a job at JPMorgan Chase. Jersey City Councilman Steve Fulop, who's running for mayor as a reform candidate, works for a private equity firm. His LinkedIn profile epitomizes the feet-in-two-camps position of too many Democrats: "Current: Equity Trading at Sanford C. Bernstein, Councilman at City of Jersey City."
CORRECTIONS: This article previously described Teneo Capital as a hedge fund and global consulting company. In fact, the company is looking to establish a private equity fund.

Also, an earlier version of this article incorrectly stated that Declan Kelly founded Financial Dynamics. Kelly held a senior post and was a minority shareholder in the global communications firm.