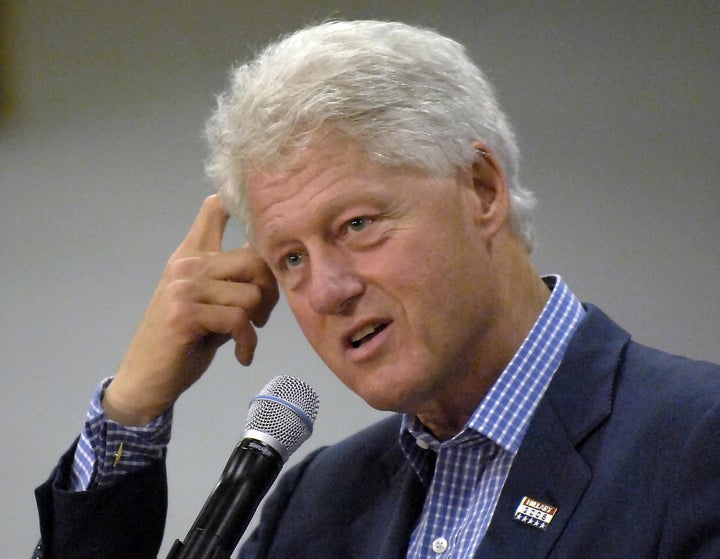 As the rumination continues over Barack Obama's comments about economically-depressed small town voters, statements made by Bill Clinton on the same topic -- uttered while he was running for president in 1991 -- have now surfaced.
"The reason (George H. W. Bush's tactic) works so well now is that you have all these economically insecure white people who are scared to death," Clinton was quoted saying by the Los Angeles Times in September 1991.
A couple months later, Joe Klein, writing for the Sunday Times, reported that Clinton made the following remarks:

"You know, he [Bush] wants to divide us over race. I'm from the South. I understand this. This quota deal they're gonna pull in the next election is the same old scam they've been pulling on us for decade after decade after decade. When their economic policies fail, when the country's coming apart rather than coming together, what do they do? They find the most economically insecure white men and scare the living daylights out of them. They know if they can keep us looking at each other across a racial divide, if I can look at Bobby Rush and think, Bobby wants my job, my promotion, then neither of us can look at George Bush and say, 'What happened to everybody's job? What happened to everybody's income? What ... have ... you ... done ... to ... our ... country?'"
For comparison's sake, here is Obama's statement, reported by Mayhill Fowler for Huffington Post's OffTheBus:
Here's how it is: in a lot of these communities in big industrial states like Ohio and Pennsylvania, people have been beaten down so long, and they feel so betrayed by government, and when they hear a pitch that is premised on not being cynical about government, then a part of them just doesn't buy it. And when it's delivered by -- it's true that when it's delivered by a 46-year-old black man named Barack Obama (laugher), then that adds another layer of skepticism (laughter). [...]

But the truth is, is that, our challenge is to get people persuaded that we can make progress when there's not evidence of that in their daily lives. You go into some of these small towns in Pennsylvania, and like a lot of small towns in the Midwest, the jobs have been gone now for 25 years and nothing's replaced them. And they fell through the Clinton administration, and the Bush administration, and each successive administration has said that somehow these communities are gonna regenerate and they have not. So it's not surprising then that they get bitter, they cling to guns or religion or antipathy to people who aren't like them or anti-immigrant sentiment or anti-trade sentiment as a way to explain their frustrations.
What do you think -- are they similar?
Update: Jason Linkins notes a statement from Harvard political scientist Theda Skocpol to Talking Points Memo, which reads in part:
I have been in meetings with the Clintons and their advisors where very clinical things were said in a very-detached tone about unwillingness of working class voters to trust government -- and Bill Clinton -- and about their unfortunate (from a Clinton perspective) proclivity to vote on life-style rather than economic issues. To see Hillary going absolutely over the top to smash Obama for making clearly more humanly sympathetic observations in this vein, is just amazing.
Popular in the Community