WASHINGTON -- President Bill Clinton's 1996 State of the Union speech may be the moment when Republicans realized that shutting down the government had not been a good idea.
But it was also when Clinton shamed the GOP for the two government shutdowns of 1995 and 1996 that went on for a total of 28 days.
Sitting in the first lady's box for the State of the Union address on Jan. 23 was Richard Dean, a heroic public servant who risked his life to save others during the Oklahoma City bombing. Clinton honored his service, and the entire chamber applauded him. From his speech:
I'd like to give you one example. His name is Richard Dean. He is a 49 year-old Vietnam veteran who's worked for the Social Security Administration for 22 years now. Last year he was hard at work in the Federal Building in Oklahoma City when the blast killed 169 people and brought the rubble down all around him. He reentered that building four times. He saved the lives of three women. He's here with us this evening, and I want to recognize Richard and applaud both his public service and his extraordinary personal heroism.
But then Clinton delivered his kicker: Dean had been furloughed during the government shutdown. His call for Congress to never again shut down the government received loud, boisterous cheers from Democrats, leaving House Speaker Newt Gingrich (R-Ga.) sitting on the podium awkwardly:
But Richard Dean's story doesn't end there. This last November, he was forced out of his office when the government shut down. And the second time the government shut down he continued helping Social Security recipients, but he was working without pay.

On behalf of Richard Dean and his family, and all the other people who are out there working every day doing a good job for the American people, I challenge all of you in this Chamber: Never, ever shut the federal government down again.
The Huffington Post reached out to Dean for an interview, but he declined.
The ensuing coverage declared Clinton's speech a success, and panned the GOP response from Senate Majority Leader Bob Dole (R-Kan.).
"President Clinton's conciliatory-sounding State of the Union speech and Majority Leader Bob Dole's sharply partisan response gave Americans an unprecedented preview of the presidential contest most likely to unfold this fall. ... Dole and his fellow Republicans had been -- there's no nice way to put this -- sandbagged by the president," read the San Jose Mercury News' front-page story the following day.
"President Clinton ate the Republicans' supper Tuesday night, but House Speaker Newt Gingrich and Sen. Bob Dole wound up with heartburn," wrote Chicago Sun-Times syndicated columnist Carl Rowan two days later.
A Miami Herald editorial on Jan. 29 concluded: "Americans got the message; so did the Republicans who control Congress. The House and Senate on Friday quickly passed a stopgap budget averting a third shutdown. Displaying his enviable talent for crafting victory phrases even in retreat, House Speaker Newt Gingrich dubbed the legislation 'The Balanced Budget Down-Payment Act.'"
And there was no doubt that House Republican Whip Tom DeLay (R-Texas) realized that politically, Clinton had won. According to the 1997 book Mirage by George Hager and Eric Pianin, DeLay had gone home and rewatched the State of the Union speech at 1:30 a.m.
"Tom DeLay screamed at Bill Clinton, fighting the urge to throw something," wrote Hager and Pianin. They said he sat "raging at his television set, calling Clinton a 'lying, disingenuous, smarmy son of a bitch.'"
Before You Go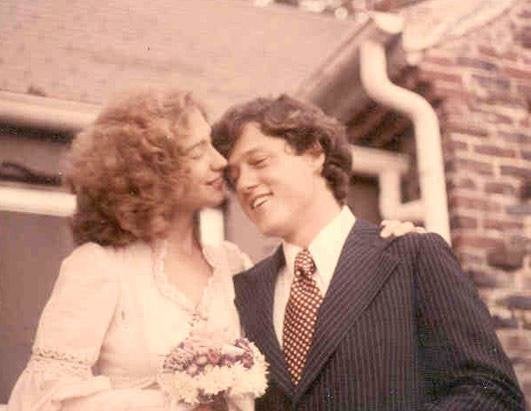 Hillary And Bill Through The Years
Popular in the Community