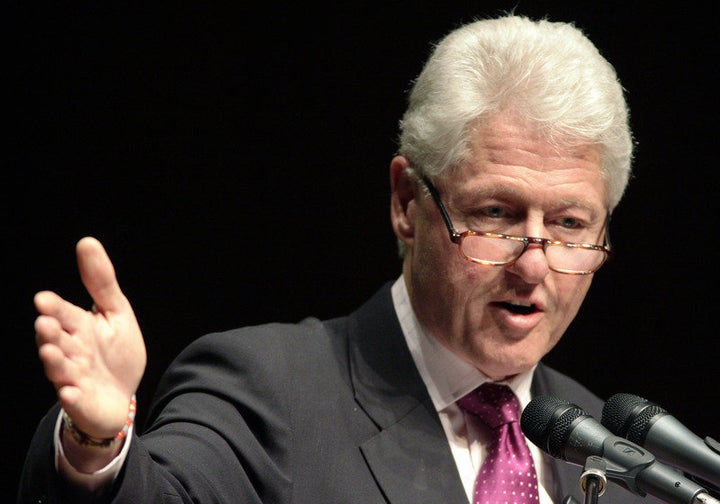 Pardon Bill Clinton if he's not stumping for Barack Obama quite so soon. The former president is set to return to Africa at the end of this month to inspect the progress of his wildly successful Global and HIV/AIDS Initiative programs, his office said.
Clinton, whose involvement with his foundation slowed but never ceased during his time as a surrogate for his wife, will be traveling with a horde of prominent leaders (including Iowa Gov. Tom Vilsack), staff and journalists in an attempt to draw increased attention to mother-to-child transmission of HIV/AIDS, malaria, and other issues. The trip, which he makes yearly, is set for July 28th through August 4th.
"Africa has always been a special place for me, full of hope and tremendous opportunity," he said in a statement to the Huffington Post. "Ever since I first traveled to Africa as President in 1998, I return as often as I can to meet the inspiring people who live there, hear their stories, and learn more about ways my Foundation can help them address the challenges they face."
The countries he's expected to visit include Ethiopia, Rwanda, Liberia and Senegal. He's also traveling to Mexico, where he is set to deliver remarks at the International AIDS Conference. On the trip will be blogger Mark Goldberg, a foreign affairs report who has written for the American Prospect and UN Dispatch, among other publications.
This year's trip will focus not on the progress the Foundation has already made, but will highlight new efforts, specifically: the Clinton HIV/AIDS Initiative's new program to prevent the mother-to-child transmission of HIV/AIDS in Ethiopia, programs to increase access to malaria drugs and diagnostics in Liberia, and the Clinton Hunter Development Initiative's projects to spur sustainable economic development in Rwanda.
"The work of the Clinton Foundation never really stopped and the President is excited to be focusing his attention on those efforts," remarked spokesman Matt McKenna.
News of Clinton's trip comes at a fairly innocuous time in the election cycle. While both campaigns have waged an aggressive political war, the real drama (when Clinton's help may be most needed) will come as November approaches.
On Thursday, the former president announced that his foundation had signed pricing agreements with suppliers working on malaria-fighting drug in an effort to stabilize the cost of that medication. He also told reporters that he was ready to campaign for Barack Obama "whenever he asks." Saying the two had a "good talk" after a contentious primary, the former president added:
"I told him that whenever he wanted me to do it, I was ready, and so it's basically on their timetable," Clinton said.
REAL LIFE. REAL NEWS. REAL VOICES.
Help us tell more of the stories that matter from voices that too often remain unheard.