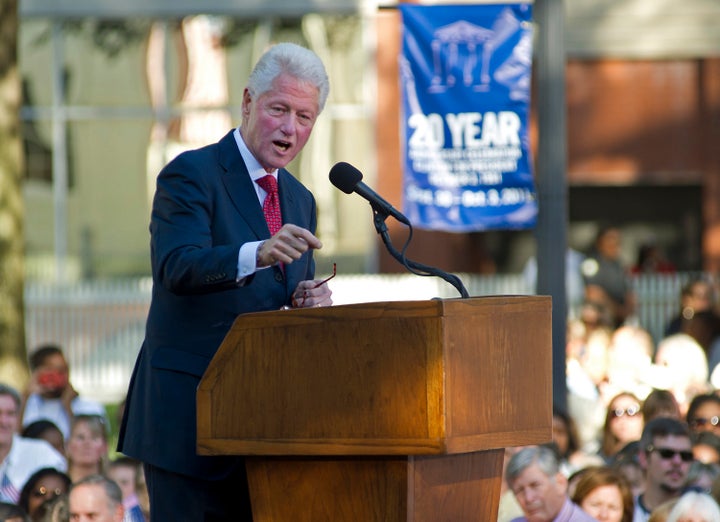 Former President Bill Clinton spoke Tuesday evening as part of Chicago Ideas Week at a sold-out event at the city's Chase Auditorium.
In conversation with Time managing editor Richard Stengel, Clinton addressed a number of topics -- including the economy and Steve Jobs' passing -- but in the midst of the ongoing Occupy Wall Street movement, including a series of protests in Chicago, Clinton couldn't help but offer his opinion on the demonstrations.
That opinion seemed to be more favorable than the comments Chicago Mayor Rahm Emanuel shared at another Ideas Week event the previous evening. The former president went so far as to compare the protests to the Arab Spring.
Clinton, who will release a new book, his third, titled "Back to Work: Why We Need Smart Government for a Strong Economy" next month, also addressed the nation's political climate more generally, stating that Washington, D.C., has become increasingly polarized since he left office in 2001. He says that polarization, as the Chicago Sun-Times reports, has contributed to a "political paralysis" in the nation's capitol.
"America has overcome all these prejudices we had. We're not nearly as gender-biased as we used to be, We're not nearly as racist as we used to be. We're not as anti-gay as we used to be," Clinton said. "The only bigotry we've got left is: we don't want to be around anybody who disagrees with us."
WATCH former President Bill Clinton discuss Steve Jobs' battle with cancer Tuesday evening:
Related
Before You Go
Candidates Weigh In On Occupy Protests(CLONED2)
Popular in the Community