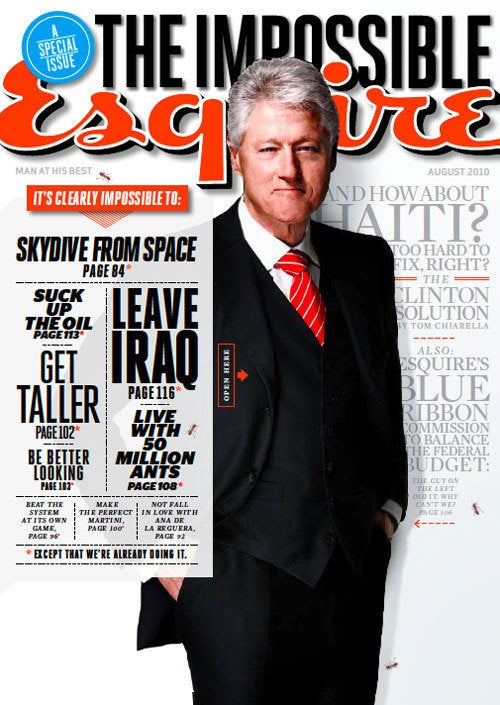 Esquire's August issue hits newsstands next week with a focus on "The Impossible," which sounds like an apt description of rebuilding Haiti. The magazine sent writer Tom Chiarella to talk about the challenge with Bill Clinton, a man they refer to as "the ex-president and, for better or worse, the CEO of the leaderless nation."
In the interview, Clinton commits himself to spending three years trying to help the island nation. Among his quotes in the magazine ...
"I don't want to be naive. It's going to be a stretch. It'll be hard, but I'm excited about it. Enough so that after a couple of heart incidents and being sixty-three years old, I am prepared to spend three years on it. They want the right things for their country."
On cleaning up the devastation:
"You may have seen where someone said it may take us two and a half years to clean the rubble out of Port-au-Prince even if we had a thousand trucks all working round the clock, because of the volume of material... That's premised on the assumption that the roads are bad, and we have to take the rubble out to centralized dumps and all that." He shifts from one hip to the other, then sits forward. "So I got 'em working on a thing now where they go into, let's say, a two-square-block area, and let's say there are twenty lots that are devastated. They collect all the rubble and store it right there on two or three lots, whatever you have to do. You clear the others out and let people rebuild by lottery.... We're going to have to be clever, but if people can see the homes coming back, and if we could put many, many more people to work, I think that would make a huge difference."
"You can't forget there are people listening when you say you are going to do things, and I try not to overpromise. Mostly, I think people who have been worked over and messed around with, they kind of get it. Now, I also believe they could withdraw their support from me if they feel I don't do anything. I wake up every day sick at heart that we aren't doing more."
"Haitians have the incentive. They need organizational structure and the support to get things done. That's what I'm trying to do: move things along. I want them to consider all their big alternatives. I want them to consider becoming a wireless country, consider becoming an energy-independent country. I want them to close their landfills, recycle everything, and use the rest for energy. Wouldn't it be great if they became the first wireless nation in the world? They could, I'm telling you, they really could."
"Then the health-care system needs to be built. I used to say rebuilt, but then I realized there really wasn't one before," he says. "Now I say built." He pauses, and at that moment the muffled room demands a grandfather clock, something to emanate a giant tick. Any noise marking the movement of time. "We'll have to rebuild the infrastructure," he says, as if reminding someone at the back of the room. "We'll have to rebuild the agriculture."
"You have to start where people live. In the camps, we need more sanitation and protection from blowdown. In the streets, we need more jobs. We need to begin reconstruction. Then do something on the education front that puts money into the hands of families so we can build an education together."
Popular in the Community