WASHINGTON ― As president, Bill Clinton was wrong about Wall Street deregulation and various elements of his foreign policy, pushed trade policies that painfully drove up drug prices around the world, sowed chaos in Mexico through his prosecution of the drug war and exacerbated the problem of mass incarceration through an overly punitive approach to sentencing.
It may be a harsh judgment, but it's one that carries weight considering the source: former President Bill Clinton.
Unlike a lot of politicians, Clinton has shown a willingness to own up to his mistakes. Earlier this week, he offered a mea culpa around sentencing at the NAACP convention. Here's an incomplete list of policies he pursued as president that he has since acknowledged were not the best choices.
Clinton's 1994 omnibus crime bill included mandatory minimum sentences, even for minor offenses such as drug crimes. It also contained a federal "three strikes" provision, which imposed life sentences for anyone convicted of a violent felony after two or more previous convictions.
Addressing the NAACP convention on Wednesday, Clinton admitted that his tough crime laws led to swelling prison populations.
"I signed a bill that made the problem worse," he said. "And I want to admit it."
In April, Clinton acknowledged in an introduction to a book of essays about criminal justice that these policies were "overly broad instead of appropriately tailored."
"Some are in prison who shouldn't be, others are in for too long, and without a plan to educate, train, and reintegrate them into our communities, we all suffer," he wrote.
He again referenced his mistake in May, telling CNN that "we had too many people in prison" and that criminal justice policies did not place enough emphasis on rehabilitating criminals and supporting them once they were out of prison.
"We wound up ... putting so many people in prison that there wasn't enough money left to educate them, train them for new jobs and increase the chances when they came out so they could live productive lives," he said.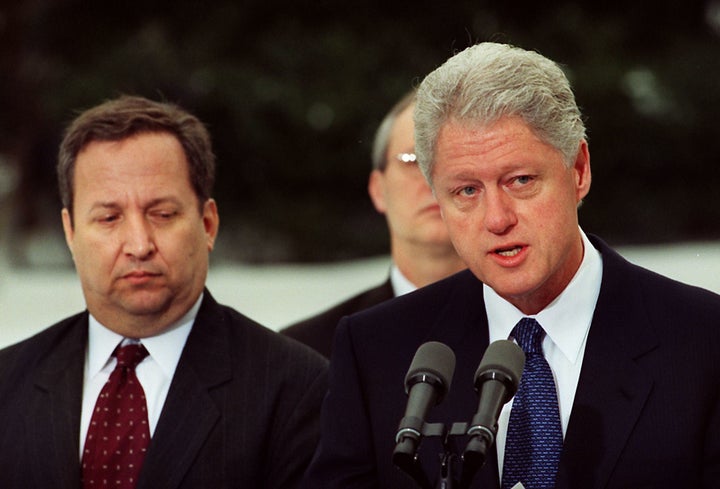 Clinton and Treasury Secretary Lawrence Summers (L) in 2000.
As president, Clinton turned a blind eye to big banks when he repealed FDR's Glass-Steagall Act, which separated commercial and investment banking. This allowed big banks to merge, becoming "too big to fail." Clinton also signed the Commodity Futures Modernization Act, which prevented derivatives from being regulated, opening the door for risky business on the part of banks. Finally, he passed policies that made it easier for banks to practice predatory lending and give risky mortgages to low-income homebuyers. All of these policies eventually wrecked havoc on the global economy in the form of the 2007-08 financial crisis.
In 2010, Clinton said his decision to exempt derivatives from regulation was shortsighted and that he should not have listened to his economic advisers, who urged him to do it.
"On derivatives, yeah, I think they were wrong, and I think I was wrong to take [their advice]," he said. "Now, I think if I had tried to regulate them, because the Republicans were the majority in the Congress, they would have stopped it. But I wish I should have been caught trying. I mean, that was a mistake I made."
While speaking in Mexico in February, Clinton apologized for the U.S. war on drugs that led to drug smuggling, which led to corruption, crime and violence across Central America. Though it began under President Ronald Reagan, the drug war escalated as a result of the NAFTA treaty championed by Clinton. Free trade benefitted drug cartels and enabled more drug trafficking.
"I wish you had no narco-trafficking, but it's not really your fault," Clinton said. "Basically, we did too good of a job of taking the transportation out of the air and water, and so we ran it over land. I apologize for that."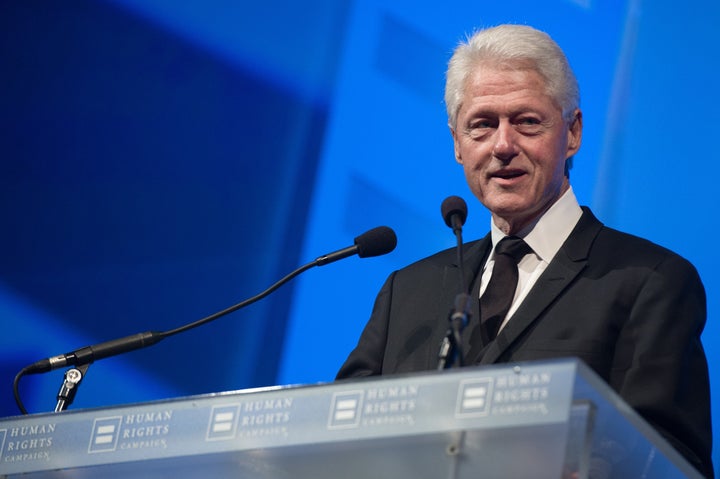 Clinton addresses the 18th annual Human Rights Campaign National Dinner in Washington on Oct. 25, 2014. HRC is the largest U.S. civil rights organization working to achieve equality for lesbian, gay, bisexual and transgender people.
In 1996, Clinton signed the Defense of Marriage Act, defining marriage to be between a man and a woman. Though he had reservations about the bill and understood its impact on LGBT couples, he feared that not signing it would cost him the 1996 election.
In the years since, his public stance has evolved on marriage equality. When the Supreme Court heard oral arguments in the case to overturn DOMA in 2013, Clinton admitted the law was a mistake and urged the court to rule against it.
A political compromise was the reason Clinton signed Don't Ask, Don't Tell, which required LGBT military members to keep their sexual orientation a secret. The House had voted for an outright ban on gays in the military, while Clinton supported completely allowing gays to serve.
When asked in 2010 if he regretted the policy, he said: "Oh yeah, but keep in mind, I didn't choose this policy. The reason I accepted it was because I thought it was better than an absolute ban."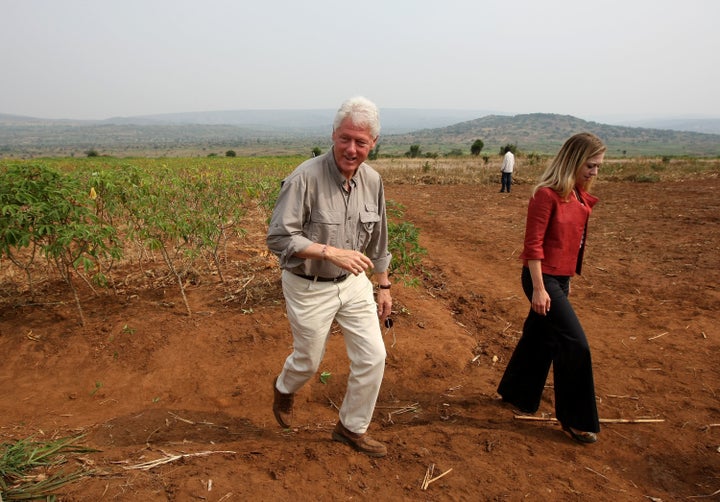 Clinton and his daughter, Chelsea, visit a cassava farm Aug. 2, 2008, in Rwinkwavu, Rwanda.
Clinton has said that one of his biggest regrets as president was not intervening in the 1994 Rwandan genocide. Administration officials knew of the potential magnitude of the genocide but chose not to send troops to support the relatively small and ineffective United Nations peacekeeping force.
In 2006 while on a trip to Rwanda, he was blunt in his assessment of how he handled the situation. "The United States just blew it in Rwanda," he said.
"If we'd gone in sooner, I believe we could have saved at least a third of the lives that were lost," he told CNBC in 2013. "It had an enduring impact on me."
As president, Clinton called for Haiti to eliminate tariffs on imported, subsidized U.S. rice, which crippled Haiti's rice farmers, a major contributor to the country's economy. He became a UN special envoy to Haiti in 2009, and after the devastating earthquake in 2010, Clinton called the tariff decision "a devil's bargain."
"It was a mistake. It was a mistake that I was a party to. I am not pointing the finger at anybody. I did that," he said. "I have to live every day with the consequences of the lost capacity to produce a rice crop in Haiti to feed those people, because of what I did. Nobody else."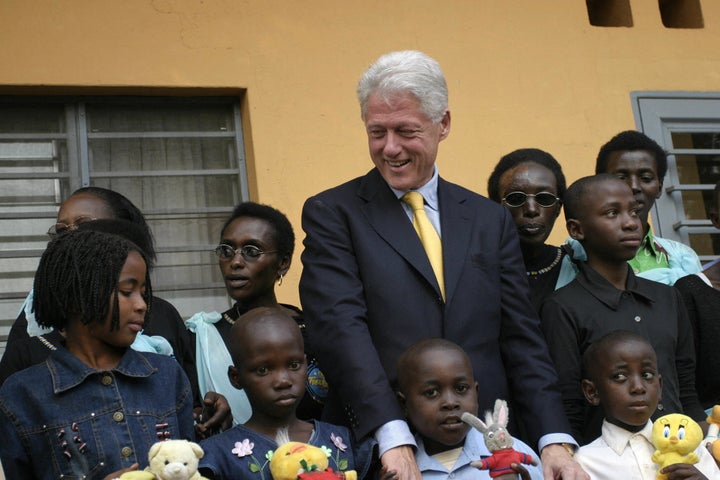 Bill Clinton poses with HIV-positive children at the Treatment and Research Aids Center in Kigali, Rwanda, on July 23, 2005. The HIV infection rate in the Rwandan countryside is a little over 4 percent; in the towns, 11 percent.
HIV/AIDS experts have criticized Clinton for not doing enough to fight the global AIDS epidemic as it grew in the 1990s. Worse than what he didn't do was what his trade office did do: fought hard for trade policies that strengthened and extended pharmaceutical patents, driving up prices worldwide, making not just HIV medications unaffordable. "It was wrong," Clinton later said of the patent push. In the 15 years since his presidency, he has committed himself to the AIDS cause through the Clinton Foundation, working to undo the damage.
Popular in the Community