 WASHINGTON -- In retrospect, it is widely perceived to have been a mistake. As the financial crisis shook the country in the backstretch of the 2008 presidential election, Sen. John McCain (R-Ariz.) chose abruptly to suspend his campaign and head back to Washington to forge a solution.
The idea was to look dignified and presidential. But it shocked Republicans, and Democrats largely pounced on the Arizona Republican for making a panicked, ceremonial and ultimately feckless move. What wasn't widely known at the time was that one top Democrat was giving McCain political and economic advice, according to a newly released book.
That book, Clinton, Inc., says former President Bill Clinton was talking to the senator during the financial crisis even as McCain was running against then-Senator Barack Obama for president. The book gives the impression but does not say outright that Clinton persuaded McCain to suspend his campaign as the stock market tanked (a McCain aide said Clinton didn't make that case). Rather, according to the author, Daniel Halper of the Weekly Standard, Clinton offered advice on what to emphasize and say. The two, he writes, "flirted, quite obviously."
"During the 2008 campaign I talked to President Clinton on several occasions," McCain tells me with a slight smile, as if realizing what he is about to let slip. "We talked about the campaign. We talked about various aspects of it."

McCain shied away from calling Clinton's outreach "advice." "It wasn't 'you should do this, you should do that,'" McCain says.

"It was sort of 'well, here's where I think things are standing and here's the issues I think you should emphasize.'" The conversations continued well into the fall, even after Clinton endorsed Obama at the conventions. McCain recalls that Clinton called him to share thoughts about the 2008 financial bailout, which had led McCain to "suspend" his campaign against Obama and urge a legislative solution.
Clinton, Inc. has already come under criticism from the Clinton camp for being full of salacious, often anonymously sourced material. And indeed, there is plenty of that in the book, chapters of which were sent to The Huffington Post (among other outlets) by an anonymous, mysterious tipster in advance of its publication.
Halper attributes Clinton's dalliances with McCain in 2008 to a devious desire to see his wife get the chance to run for president in 2012 (should McCain win) as opposed to 2016 (should Obama emerge victorious). If that were the case, it's worth noting that Clinton and his wife stumped for Obama in 2008, following the primary.
But Halper's McCain anecdote is built off of an interview with the senator himself, giving it some credibility. A top aide to the senator told The Huffington Post that McCain and former President Clinton have "spoken about how they kept in touch during the 2008 campaign." The aide added that it would be a mistake to suggest that Clinton persuaded McCain to suspend his campaign.
Backroom scheming is a regular theme in Clinton, Inc., and it's not just the Clintons doing it -- on occasion, Halper says, they were actually the targets. When Hillary Clinton was running for Senate in 2000, she got pushback from her fellow Democrats, he writes. In particular, Sen. Chuck Schumer (D-N.Y.) was not particularly keen about her moving to the Empire State to run for office. He was further upset that she would be running against Rick Lazio -- a Republican, of course, but one with whom Schumer had worked.
According to Halper, Schumer would offer "unsolicited advice" to Lazio during the Senate race.
"I thought he was generally ... He was supportive," Lazio recalls. "Quite helpful to me behind the scenes and encouraging. I just would say that it was clear to me anyway that he would not have been disappointed if I had been elected."

Pressed as to whether Schumer actually devised lines of attack against Clinton, Lazio demurs. "I don't really want to get into that or answer that question," he says. "I think I would just say he was generally supportive and, in my informal discussions, encouraging."
Once more, Halper's anecdote is based on a direct, on-the-record interview, making it difficult to dismiss the statements as mere speculation or troublemaking. But Schumer's office adamantly denied it with an on-the-record statement of its own.
"Sen. Schumer was a die-hard Hillary supporter from the moment she announced she was running for the Senate," spokesman Matt House said. "He and Mr. Lazio had a fine relationship and worked well together in the New York delegation, but Mr. Lazio's recollection of the campaign just doesn't match reality."
Want more updates from Sam? Sign up for his newsletter, Spam Stein.
Before You Go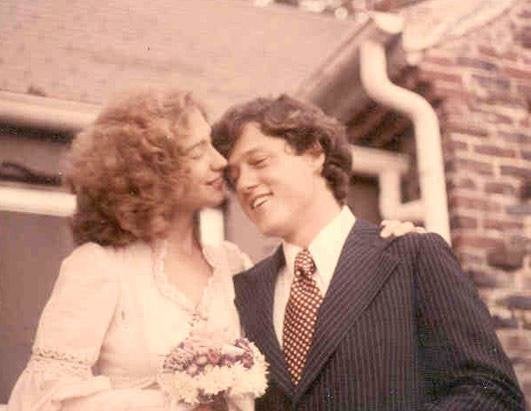 Hillary And Bill Through The Years
Popular in the Community