Former President Bill Clinton has been called the first black president before, but when the phrase came up recently, he invoked science as a reason why racial distinctions shouldn't matter in the first place.
Rep. Steve Cohen (D-Tenn.) introduced Clinton Friday at a Memphis campaign rally for Hillary Clinton by saying that while he clearly was not the first black president, he was a "heck of a stand-in."
"The other thing I want to make a funny comment about is Steve Cohen's remark that I was just a stand-in for the first black president," Clinton said. "I'm happy to do that, but you know what else we learned from the human genome? We learned that unless your ancestors, every one of you, are 100 percent, 100 percent from sub-Saharan Africa, we are all mixed-race people.
"And we learned that from a scientific point of view, if you just look at our genome, we are all 99.5 percent the same," he added. "That is, look around this room here. Every single, solitary difference you can see that is not age-related: skin color, eye color, body shape, gender, race, you name it, every one is rooted in one half of 1 percent of your genome. So the problems of the world today could be summed up as, we spend 99 and a half percent of our time fixating on that half of a percent, and if we spent a little more time fixated on the other 99 and a half percent, we could build a better future together."
Clinton's remarks came only a day after actress Meryl Streep told reporters in Berlin that "we're all Africans" when asked about her experience with Arab and North African films.
Writer Toni Morrison wrote of Clinton in 1998 that "white skin notwithstanding, this is our first black president. Blacker than any actual black person who could ever be elected in our children's lifetime."
Morrison later clarified her comments. "I said he was being treated like a black on the street, already guilty, already a perp," she said, in reference to Clinton's sex scandal.
Clinton, who initially took on a role as a backstage adviser, began campaigning for his wife last October. He intensified his attacks on Sen. Bernie Sanders (I-Vt.) last week, accusing him of living in a "hermetically sealed box."
Hillary Clinton will face off against Sanders in the Tennessee primary on March 1. She carries a three-to-one lead there over Sanders, according to a recent MTSU poll.
She is currently leading in the national Democratic primary polls with 50.2 percent, while Sanders trails at 39.1 percent, according to HuffPost Pollster.
This article was updated after publication to include a fuller version of Clinton's remarks.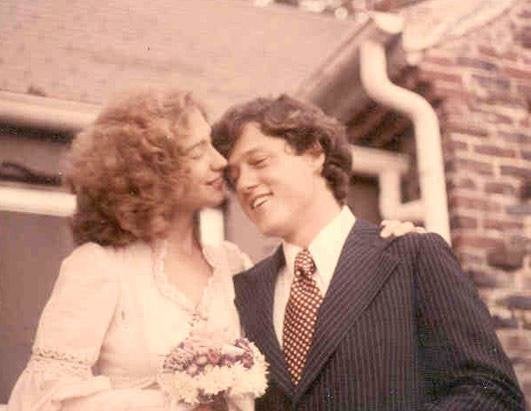 Hillary And Bill Through The Years
Popular in the Community