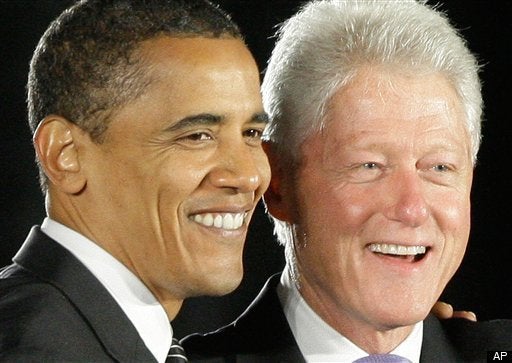 President Bill Clinton, who during his administration spearheaded the last effort to overhaul the health care system, predicted on Wednesday that President Barack Obama will ultimately succeed where he failed.
In a speech before the progressive youth group, Campus Progress, the 42nd President said that he suspects Obama will "get a health care reform bill" because of three distinct reasons.
"The filibuster won't be an option," Clinton said, "the small business community won't be as against any plan we got now, and frankly the economy is in such a mess that you've got a little more budget flexibility."
The former president also made it known that he fully backs a government-run option for health insurance coverage as a means of lowering costs and adding competition to the private sector.
"I'm for the public option because I think there needs to be some competition here," said Clinton. "Yes, I favor a public health option, Yes, I favor the efforts the administration has made to get the drug companies, the hospitals, and everybody else, to chip in and give up some of their projected future increases based on rampant inflation. And yes, I favor organizing a society so that old people stay healthier and young people don't get diabetes. Otherwise we will pass this health care plan and five years from now we will be back to the drawing board."
The remarks come at a time when the debate over health care, and a public option in particular, is moving towards a crucial juncture. Clinton, perhaps more than any other pol, can understand the tenuousness of the current debate. Despite having widespread public support for a health care overhaul, his process fell apart amidst disunity within the Democratic Party and distrust of his White House's approach.
Sixteen years later, he displayed a calm confidence that health care reform will be passed. Twice in his speech, Clinton referenced the fact that Democrats in the Senate now have the 60 votes needed to stem off a filibuster attempt by Republicans.
As for the other features of health care reform, Clinton kept his remarks - which were delivered without notes and lasted nearly an hour - relatively broad. He did, however, offer his support for the legislation being outlined by the Senate Health Education Labor and Pensions Committee, which is one of several potential measures that Congress wil consider.
"I believe that the last plan the Senate is talking about is basically quite good," Clinton said. "It won't get us to universal. It would insure about 97 percent of the people and it would be done under the president's budget allocation for health care."
Clinton's speech to the crowd of mostly college-aged attendees touched on a wide variety of topics beyond health care -- from his work in Haiti to his admiration for Amazon's Kindle. In between he managed to sneak in a few jabs at the media, which he insisted only reports on him when he slips up verbally, and the GOP.
Taking the stage to a roaring applause, Clinton said that he found current Republican complaints about Obama's economic policies, specifically the stimulus package, to be "fastidious" and "hilarious."
"The members of the other party say they are not for the stimulus, or health care reform, or fighting climate change because it costs money and they really would hate to put that debt on our grandchildren," he said. "In the last eight years I saw the surplus I left, which would have taken you out of debt, even with the 2001 recession, by 2013... I saw it blown away and the debt doubled. And in the 12 years before I became president they quadrupled the debt."
"These same people," he added, "it didn't bother them a bit to put a burden on our grandchildren to pay for a millionaire's tax cut. But if we are helping some poor person go to work, or helping some young person go to college, that is unacceptable... I'm not saying we don't have to worry about the debt. We do. It is a problem. But it is a problem that will have to be addressed after the economy grows again and we start generating revenues."

Popular in the Community