 WASHINGTON, Sept 4 (Reuters) - Former President Bill Clinton attempted on Wednesday to cut through confusion and worries about the new U.S. healthcare law, telling Americans they will be better off with Obamacare and urging opponents to make the best of it.
Clinton said the health of the nation depends on a successful rollout of President Barack Obama's healthcare reform law. The program has been hampered by technical delays, fears about costs, and relentless pressure from Republicans who want to repeal it.
Obama dubbed Clinton the "secretary of explaining stuff" a year ago after the former Democratic president gave a rousing prime time defense of Obama's economic policies at the Democratic National Convention.
Debate over Obamacare is still raging a month before new health insurance exchanges go live. The White House enlisted Clinton to try to turn the page on the rancor over Obama's signature law, and kick off the push to get uninsured Americans to sign up for coverage.
It is part of a broad outreach strategy by the White House to encourage community groups, businesses and celebrities to raise awareness about exchanges, which open Oct. 1.
Clinton acknowledged problems with the law, which requires Americans to have insurance or pay a penalty. He said Americans will be better off when more people have coverage under a program he argued will begin to reduce the staggeringly high cost of health insurance.
"There are always drafting errors, unintended consequences, unanticipated issues," Clinton said in a speech from his presidential library in Little Rock, Arkansas.
"We're going to do better working together and learning together than we will trying over and over again to repeal the law, or rooting for reform to fail, and refusing to fix relatively simple matters," he said.
Clinton is well versed in the politics of healthcare after he tried but failed to overhaul the system in the 1990s.
Polls show there is little hope for an end to the entrenched political debate over the healthcare law, said Drew Altman, president of the Kaiser Family Foundation, which provides research and information about U.S. healthcare policy.
Clinton's speech signals a new stage in the administration's efforts to press Americans to sign up for Obamacare, Altman said in an interview, noting that more than 40 percent of Americans are confused about the law.
"I think it is part of the effort to just get people to sit up and pay attention and say to them, 'Look: this is real now, a lot of you can benefit from this law,'" Altman said.

Clinton's speech does nothing to fix the underlying problems with Obamacare, said Don Stewart, a spokesman for Senate Republican Leader Mitch McConnell, who has long opposed the program and wants to see the law repealed and replaced.
"The problem is that Obamacare costs too much and it isn't working the way they promised," Stewart said. "No amount of speeches can change the fact that employers are cutting hours, families are losing the plans they have and like, and that premiums for many people are going up."
Clinton said the worst predictions about the impact on jobs and insurance costs have not materialized. He assured Americans that it is normal to see some bugs in an overhaul of "a complex ecostructure like American healthcare."
He said Congress should amend the law to make sure low-wage earners who have insurance at work can receive tax credits for insurance they buy for family members on exchanges, and should expand tax credits for small businesses that provide employees with plans.
There are legitimate fears that not enough young, healthy people will sign up for plans to balance higher-risk older people in insurance pools, he said.
"I think if young people can afford the coverage, they should buy it, and contribute to a well-funded system with lower rates if for no other reason than they will not always be young," Clinton said.
"It's both the right and the smart thing to do."
And he acknowledged "the computer problem" involved in making sure the data hub for electronic exchanges works as the deadline rapidly approaches.
"There may be glitches, but so far there's no evidence to suggest that they won't be able to be fixed quickly," he said. (Reporting by Roberta Rampton; editing by Andrew Hay)

Before You Go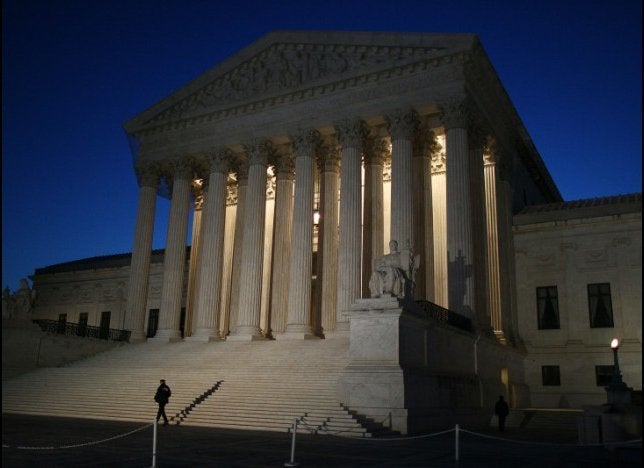 Political Reaction To Health Care Ruling
Popular in the Community