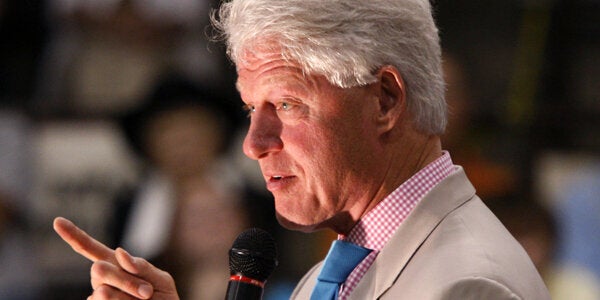 Click below to listen to audio of Bill Clinton on a ropeline discussing "The Comeback Id," Todd Purdum's controversial Vanity Fair article.
MILBANK, S.D. -- Former President Bill Clinton today unleashed a salty stream of epithets to describe former New York Times reporter and current Vanity Fair writer Todd Purdum, calling him "sleazy," "dishonest," "slimy" and a "scumbag."
The former president made the comment at a local campaign event after I asked him if Purdum's much-commented upon Vanity Fair story was weighing on his mind.
Tightly gripping this reporter's hand and refusing to let go, Clinton heatedly denounced the writer, who is currently married to former Clinton White House Press Secretary, Dee Dee Myers.
"[He's] sleazy," he said referring to Purdum. "He's a really dishonest reporter. And one of our guys talked to him . . . And I haven't read [the article]. But he told me there's five or six just blatant lies in there. But he's a real slimy guy," the former president said.
When I reminded him that Purdum was married to his former press spokesperson Myers, Clinton was undeterred.
"That's all right-- he's still a scumbag," Clinton said. " Let me tell ya-- he's one of the guys -- he's one of the guys that propagated all those lies about Whitewater to Kenneth Starr. He's just a dishonest guy-- can't help it."
Purdum's piece, featured in this month's edition of Vanity Fair, included former advisers criticizing former President Clinton for bringing negative attention to Hillary Clinton's candidacy and for surrounding himself with friends who might discredit her campaign.
The former president's tirade continued:
"The editor of Esquire-- he sent us an email yesterday and said it was the single sleaziest piece of journalism he'd seen in decades. He said it made him want to go take a shower and he was embarrassed to be a journalist when he read it."
"You know he didn't use a single name, cite a single source in all those things he said. It's just slimy. It's part of the national media's attempt to nail Hillary for Obama. It's just the most biased press coverage in history. It's another way of helping Obama. They had all these people standing up in this church cheering, calling Hillary a white racist, and he didn't do anything about it. The first day he said 'Ah, ah, ah well.' Because that's what they do-- he gets other people to slime her. So then they saw the movie they thought this is a great ad for John McCain-- maybe I better quit the church. It's all politics. It's all about the bias of the media for Obama. Don't think anything about it."
"But I'm telling ya, all it's doing is driving her supporters further and further away-- because they know exactly what it is-- this has been the most rigged press coverage in modern history-- and the guy ought to be ashamed of himself. But he has no shame. It isn't the first dishonest piece he's written about me or her."
"Anytime you read a story that slimes a public figure with anonymous quotes, it oughta make the bells go off in your head. Because anytime somebody uses those things-- he wrote the story in his head in advance, and he just goes around and tries to find some coward to say whatever they want to say, hoping to get some benefit out of it. It didn't bother me. It shouldn't bother you."
"Thank you, Mr. President," I said attempting to end the conversation.
But Clinton continued. "He can't help it," he said. "He still hasn't apologized to me for Whitewater."
Update: President Clinton's spokesman Jay Carson issued a statement in response to this article: "President Clinton was understandably upset about an outrageously unfair article, but the language today was inappropriate and he wishes he had not used it."
Update: Esquire spokesperson sent the following statement. "David Granger did not send an e-mail to Bill Clinton about the Vanity Fair article. One of the editors on staff sent a personal note about the piece to Doug Band, who was written about in the article. That was a private e-mail, and Band has since apologized to Esquire that it became public."

Related
Popular in the Community