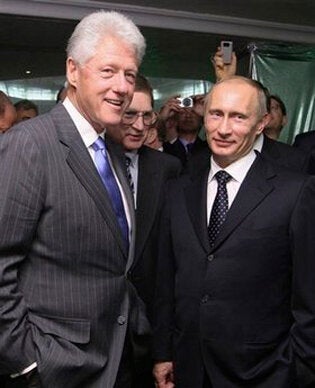 Bill Clinton's latest title is husband of America's new secretary of state, but that has not stopped him from flexing his own diplomatic muscles while in Davos this week. The New York Observer's Joe Conason reports that Bill's moves at the World Economic Forum -- including a long talk with Russian Prime Minister Vladimir Putin -- reveal that the former president will "continue to be an active figure on the international stage."
Upon arriving here on Wednesday afternoon, he conducted a series of quiet meetings with foreign leaders that culminated in an intense late-night discussion with Russian Prime Minister Vladimir Putin. The two former presidents met at a Sheraton hotel where Putin held a private party, following an early evening reception at a local museum hosted by Clinton.

Putin greeted Clinton cordially as "our good friend" as they raised glasses of vodka and then listened to a pianist pound out "In the Hall of the Mountain King." When the musical entertainment concluded, they moved to a table in a separate room with access strictly controlled by Secret Service and Russian security agents. Flanked by aides and an interpreter, the two men talked for nearly 90 minutes before they rose and walked out together for a few pictures with partygoers and members of Clinton's entourage.
Clinton also poked fun at Putin's comments implying he supports free markets, reports the AP.
"This is the first I've heard of Prime Minister Putin coming out for free enterprise," Clinton told an audience at the World Economic Forum on Thursday, a day after the Russian leader warned that too much government involvement in the economy could be "dangerous" and cautioned against "blind faith in the state's omnipotence."

Putin has often been criticized for exerting state control over Russia's key industries such as oil and gas.

Clinton joked: "I hope it works for him."
Check out this AP video on Clinton's remarks at the forum:
Popular in the Community