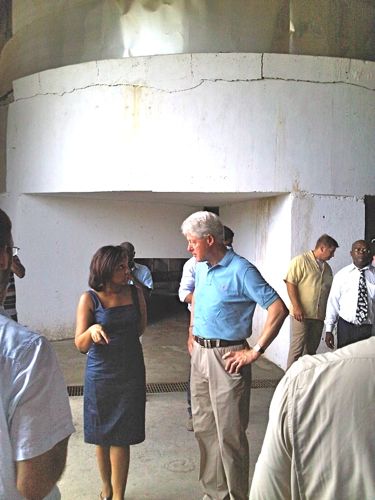 BioTek's Regine Simon Barjon with Former President of the United States, co-chair of the IHRC, and UN Special Envoy for Haiti Bill Clinton at the Darbonne Sugar Mill near Leogane, Haiti on Aug. 6th, 2010 (courtesy Clinton TwitterPic)
Ninety percent of Leogane was destroyed in Haiti's January earthquake that took 300,000 lives--30,000 in the coastal city located 29 km (18 miles) west of Port au Prince. 1.6 million Haitians remain homeless, and the billions of dollars promised by donor countries in March have yet to materialize. Only $506 million--from Australia, Estonia, Norway, Brazil and Colombia--out of over $5 billion pledged--is accounted for. At the end of July, President Obama signed legislation promising $770 million from the United States, but lawmakers have not established how it will be spent. Given the huge remaining humanitarian and economic crisis facing Haiti, it is puzzling that mainstream media in the United States short-changed coverage of former President Bill Clinton's early August visit to Leogane. The symbolism is significant, considering that Leogane and the nearby village of Fayette are at the epicenter of the 7.0 quake.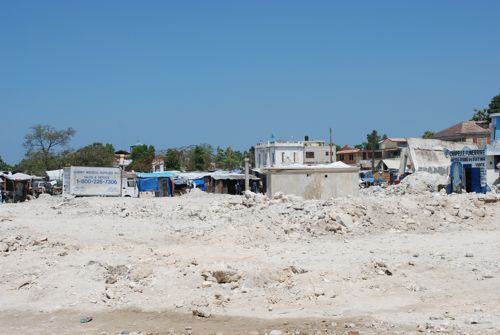 Leogane, Haiti March 15, 2010
Clinton attended the groundbreaking for a Clinton Foundation commitment of $1 million for The École Communautaire Sainte Thérèse de Darbonne--a project addressing disaster preparedness and hurricane safety. Clinton also visited the Darbonne sugar mill, a public/private management agreement between the Government of Haiti (GOH) and BioTek, a bio-energy and biofuels distribution company. The former president, who is also the UN's Special Envoy to Haiti, also met with local planters.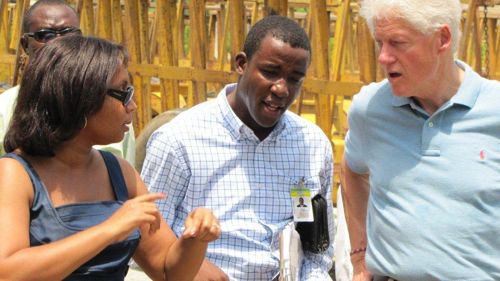 Regine Simon Barjon, Martenot Neils Narcius , and Former President and UN Special Envoy to Haiti Bill Clinton
The BioTek/Darbonne Project is "targeted to be part of Haiti's Electricity Master Plan as a model for additional green energy plants, including solar, wind and hydro," according to BioTek CEO, Regine Simon Barjon, who accompanied Clinton on his visit to the Darbonne mill. Barjon is a Haitian/American.
One does not ordinarily associate sugar cane processing with Haiti, and that fact may account for the lack of attention to Clinton's visit. Anyone who has driven to Leogane will notice acres and acres of fertile sugar cane fields lining the roads. Clinton has a personal stake in Haiti's agricultural projects, resulting from his regret over policies that basically pushed Haiti to accept subsidized US imports (rice) at the expense of Haiti's agricultural infrastructure.
Sugar Cane fields near Leogane, Haiti March 15, 2010
In April, 2010, Clinton told an interviewer for Democracy Now that the United States "made a devil's bargain" when it instituted trade policies that destroyed Haitian rice production.
Since 1981, the United States has followed a policy, until the last year or so when we started rethinking it, that we rich countries that produce a lot of food should sell it to poor countries and relieve them of the burden of producing their own food, so, thank goodness, they can leap directly into the industrial era. It has not worked. It may have been good for some of my farmers in Arkansas, but it has not worked. It was a mistake. It was a mistake that I was a party to. I am not pointing the finger at anybody. I did that. I have to live every day with the consequences of the lost capacity to produce a rice crop in Haiti to feed those people, because of what I did. Nobody else.
Clinton's visit to the Darbonne sugar processing plant demonstrates a commitment to reverse flawed agricultural policies in a country where 2 out of 3 Haitians are farmers. This disconnect was addressed by BioTek founder Barjon in a March development conference in Miami.
At the meeting, which consisted largely of security firms looking to make a buck on fear and perceived insecurity, Barjon took the podium and told the mostly white, male audience that "we can grow our own chickens," while she proceeded to slam micro loans as ineffective in a poverty stricken nation that needs major investment support and not hand-outs.
Lending has been a huge problem, and micro-loans are a decidedly weak link. $2,500 will set up a roadside stand selling Coca Cola and candy, but will not support the smallest agri-business or retrofit the rusting and dilapidated sugar cane grinding facilities. Pulling no punches, Barjon laid it out: 60% of the Haitian work force is in agriculture. Food security is a top priority and it will serve to put an end to Haiti importing much of what it can produce at home.
Sugar is a huge resource, but unless there is money to keep the mills in operation, and unless the US and international sugar cane industries release strangleholds on trade, Haiti will never resume its annual production capability of 250,000 metric tons of raw sugar. This translates into $100 million a year. Optimizing Haiti's staple food agriculture products such as rice, sugar and poultry translates into food security for Haiti as well as the potential for green energy production. As food and electricity become more affordable for Haitians, living standards go up, and Haiti can begin to wean itself from a welfare-based economy foisted on the country by disastrous trade policies.
According to Barjon, Clinton pledged his support to "help us make the mill work for BioTek and the community," recognizing that as BioTek works in partnership with the Leogane sugar cane farmers."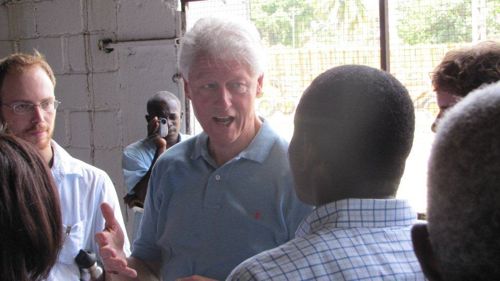 Clinton Meeting with local growers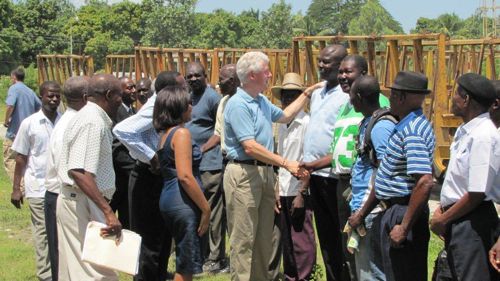 Credits for Photos of President Clinton: William Pascal
Each worker in Haiti cares for an average of 8 people. Since the Darbonne mill has 250 employees and currently works with over 1,000 farmers, the revitalization of the Darbonne Mill translates into the participation of over 30,000 farmers, resulting in a direct positive economic impact on over 240,000 people. If successful, the sugar mill will reduce food imports by 10 percent and reduce South American sugar imports by as much as 40 percent.
Barjon is a ferocious supporter of a self-sufficient Haiti, and BioTek's involvement with Darbonne goes back four years, well before the catastrophic earthquake. Getting Clinton to visit the mill was a direct result of this commitment and dedication. She has been attending Clinton Global Initiative (CGI) meetings, where BioTek is an "honorary" member. Barjon is grateful for this status since it translates into a waiver of the annual $25,000 membership. She explained her connections with CGI in an email interview.
I think CGI realizes we are looking to balance and to challenge international perception and interests with the socio-economic realities of Haiti and its people. So we get to network, meet and establish relationships with companies and organizations interested in Haiti and/or already operating in Haiti-- like DCK Worldwide and Global New Clean Energy Fund which can assist, help, and give away its intellectual property rights for specific Haiti projects. BioTek seeks above all to re-establish and optimize agro-industrial production in Haiti to serve the country's actual capacities, to meet Haiti's needs, and to contribute towards economic self-sustainability.
All of this will take money that is in short supply in Haiti, despite the influx of non-governmental (NGO) organizations that fill every available hotel and restaurant in Port au Prince. Barjon says that the BioTek Agro-Energy Project will be financed by the International Investment Corporation (IIC), a private arm of the Inter-American Development Bank (IADB), and Haiti's Sogebank, with potential underwriting from the Overseas Private Investment Corporation (OPIC). If successful, the project will complete the rehabilitation of the Leogane sugar industry with the resultant production of sugar and cane syrup. A secondary bonus will be the production of green energy from sugar cane bagasse biomass-- an estimated 20 megawatts of electricity-- when the pre-earthquake electricity deficit was over 60 megawatts.
Bagasse is the fibrous by-product of cane processing. The moisture content requires drying before burning. A low moisture content after processing is the measure of good processing and the Darbonne plant is achieving 40 percent, which is considered a very good industry standard.
Part of the reason Clinton has thrown such visible support behind this project may be the fact that the government of Haiti, for unknown reasons, has yet to ink the final contract.
Why GOH is not signing a project that is funded, can basically create over 30,000 agricultural jobs, when over 60 percent of Haiti's labor force is agricultural, reduce its trade deficit by 10 percent, and reduce 40 percent of sugar imports, is unfathomable. It is also another reason that it is more than unfortunate that major news outlets have failed to cover this story and instead focused on the six-month anniversary of the devastation and Wyclef Jean, while tanking a story about sustainable agriculture.
Leogane has always been the traditional sugar cane production region of Haiti and agriculture is the area's only major employer. Visit Haiti and people will tell you they want to work. We heard this again and again as we visited the IDP camps in March and again in May. 1,000 independent farmers currently sell their sugar cane to Darbonne and depend on the mill for their livelihood.
Clinton addressed the need for Haiti to become self-sufficient at the United Nations donor conference in March 2010. Speaking to potential donor groups, Clinton suggested that the best thing aid groups could do for Haiti was to "put themselves out of business." What Haiti needs most of all is the encouragement and means to become a self-sufficient nation. Now, with his visit to the Darbonne Sugar Mill in his capacity as the United Nations Special Envoy, the former president appears to be putting intellectual and influential muscle behind agricultural sustainability.
But Clinton's support will not be enough if donor nations and especially USAID do not step up to the plate. A week ago, The International Federation of Red Cross and Red Crescent Societies (IFRC) announced a second round of tarpaulin distributions.
In all, 80,000 families in Port-au-Prince and Léogâne will receive new tarps to replace the increasingly worn and tattered stock that provides make-shift shelter to tens of thousands of displaced families across the country.
Haiti needs more than plastic tents if the country is to move forward. People need job security, real homes, clean water, and electricity. They need infrastructure, to put it simply. The Darbonne mill exists. It does not have to be rebuilt. It is online and in production. One major donor can expand this project to include thousands of farmers and their families, and the Government of Haiti needs to get solidly behind it and sign the final contract. The partnership already exists.
"With the BioTek/Darbonne Management Contract in place, we expect to have over 4,000 farmers immediately as part of our network," Barjon said. "We also need help in securing money to buy as much sugar cane as possible this upcoming season, which begins in September."
Possible emergency funding can come from USAID, which could include Darbonne within its emergency funding plans, or as part of its ongoing Winner's Program, Barjon said.
Meanwhile, while USAID certainly has the funding available, there is no indication yet that it is forthcoming. This is unfortunate, when Haiti is suffering so terribly and a viable project is up and running. We visited in May and it is as impressive as facilities we have seen in South Louisiana. Certainly the farmers and workers are as committed.
Barjon said Clinton indicated the project must be a source of jobs for Haitians, and that the companies involved promise Haitian partners, in order to be eligible for funding.
Background on BioTek: BioTek Solutions, Inc. (BioTek: Federal Tax ID Number: 74-314-5063; D & B Number: 19-711-0005)) is an Agro-Solutions Business Development and BioFuels Blending and Distribution Company with offices in Tampa and Lake City, Florida and Port-au-Prince, Haiti. The company is a partnership between the Principals of BioTek Solutions, Inc., BioTek Haiti S.A. BioTek Solutions, Inc., founded in 2005, has worked with the Florida Energy Office, the Florida Legislature and numerous counties to promote Biomass based energy and biofuels awareness and use in Florida and the Caribbean. BioTek has worked with the Organization of American States (OAS), the Inter-American Development Bank (IADB), and the Pan-American Development Foundation (PADF). YouTube Music by Diana Jones
Related
Popular in the Community