CHARLOTTE, N.C. -– Bill Clinton made the nation a big promise Wednesday night, pledging to those still struggling that their economic fortunes will turn around if they reelect President Barack Obama.
"A lot of Americans are still angry and frustrated about this economy," Clinton told a spellbound audience of delegates at Time Warner Cable Arena. "If you look at the numbers, you know that employment is growing, banks are beginning to lend again, and a lot of housing prices are even beginning to pick up.
"But too many people do not feel it yet," he said, and then vowed: "If you will renew the president's contract, you will feel it. You will feel it."
He paused, and then added, "Folks, whether the American people believe what I just told you or not may be the whole election. I just want you to know I believe it. With all my heart I believe it."
The rest of Clinton's nearly hour-long speech was a detailed litigation of the main charges that Republicans have made against Obama.
But those few sentences -- an acknowledgment that the nation is still stuck in an economic slump, a promise that a second Obama term will bring better times, and a quick, sly slip into analyst mode -- were the key moments of the speech.
It was an honest, forthright appeal to the voters who will, by all accounts, decide the election -- those who voted for Obama in 2008, but who have found themselves disappointed, wanting to believe in the president they supported four years ago, but not sure they will. Strikingly, Clinton's line about the possibility that Americans may not put their faith in the president was not in his prepared remarks.
Clinton only mentioned Republican Mitt Romney a handful times, but laid out a framework that he said defines this election. "If you want a winner-take-all, you're-on-your-own society, you should support the Republican ticket," Clinton said. "But if you want a country of shared opportunities and shared responsibility -– a we're-all-in-this-together society -- you should vote for Barack Obama and Joe Biden."
Clinton, whose mastery of the stage left him several possible ways to attack Romney, notably did not skewer the Republican's record at Bain Capital, or his other weaknesses, instead focusing his argument in general against the GOP philosophy. (Clinton worked a stint for the consulting and private equity firm Teneo Capital. Co-founder Doug Band is a close Clinton adviser. Clinton listed his income from Teneo on a recent disclosure form as greater than $1,000, though it gives no upper limit.)
Holding fire on Bain left the speech absent a zinger to sum up Romney. Instead, Clinton saved the zinger for tax cuts for the rich, warning that Romney will "double down on trickle-down."
He paraphrased Ronald Reagan: "As another president once said, 'There they go again."
In reframing last week's GOP message, he employed equal parts mockery, wonkery and plainspeak.
In short, he said, the Republicans came to Tampa to deliver a simple message about Obama: "We left him a total mess, but he hasn't cleaned it up fast enough, so fire him and put us back in."
Clinton hit Paul Ryan in the same style. The GOP vice presidential candidate had attacked Obama for cutting $716 billion from Medicare, when his own budget proposal included those same cuts.
"You gotta give him one thing. It takes some brass to attack a guy for doing what you did," Clinton said.
He also slashed at Romney's charge that the president had undermined the work requirement in welfare reform. "Their campaign pollster said, 'We're not going to let our campaign be dictated by fact-checkers,'" Clinton said. "Now, finally I can say that is true. I couldn't have said it better myself –- I just hope you remember that every time you see those ads."
Beyond making the broad case for Obama's reelection, Clinton's job Wednesday night was to make Democrats forget the terrible afternoon they had just endured.

After party leaders, and eventually the president himself, decided it had been a bad idea to omit from their party platform any mention of God as well as an assertion of Jerusalem as the capital of Israel, they attempted to change it quickly in a late afternoon voice vote on the convention floor.
Embarrassingly, convention chairman Antonio Villaraigosa, the mayor of Los Angeles, had to ask for three voice votes, and each time the nays got louder. He eventually ruled that there was two-thirds support for the changes, despite the clear lack of such a majority.
The snafu led to a series of embarrassing TV interviews for Democratic National Committee Chairman Debbie Wasserman Schultz, who told CNN there was "no discord" during the vote, only to have Anderson Cooper mock her comments as belonging to "an alternate universe."
Organizers also decided to move the final day of the three-day convention indoors, rather than having Obama accept his party's nomination at the 65,000-seat Bank of America outdoor football stadium. The threat of rain forced the decision, but it was another disappointment for a convention that at one point was envisioned as four-day event in four different cities, and has been beleaguered by fundraising woes and now downsized to a three-day event in the same arena.
For Clinton and for the assembled Democrats, it was a chance to relive his glory days. Clinton showed little interest in letting the moment end. And with the balloon drop canceled, there was some question whether Clinton could ever be urged off the stage.
Obama joined him onstage for a brief moment after Clinton finished speaking, causing the crowd to erupt. Clinton bowed to the current president as Obama walked out, the two men embraced, waved to the crowd, and then walked toward backstage.
But Clinton shook hands with nearly every person in sight on his way out, disappearing into the backstage tunnel once only to reemerge for one last final hug and handshake with one of his many friends. Finally, Obama simply walked through the curtain without him, and Clinton followed a few seconds later.
UPDATE: Clinton, at the DNC after-gavel party, spotted a stage and gave a very long speech to a new audience, according to a person in the room, who left after 20 minutes, before he'd finished speaking (again).
Before You Go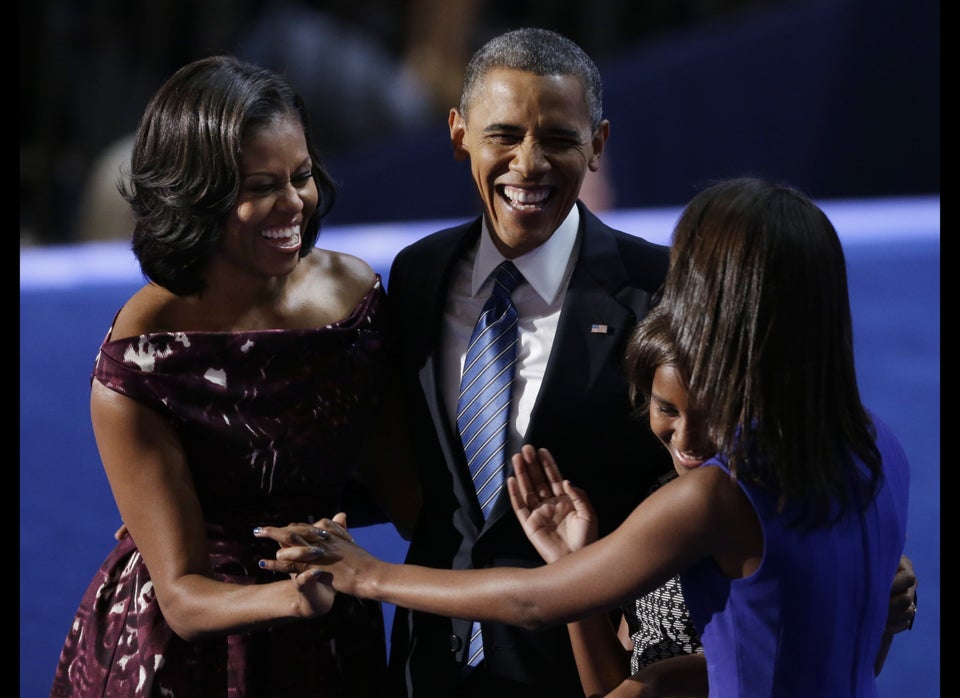 Obama Rocks Democratic Convention
Popular in the Community