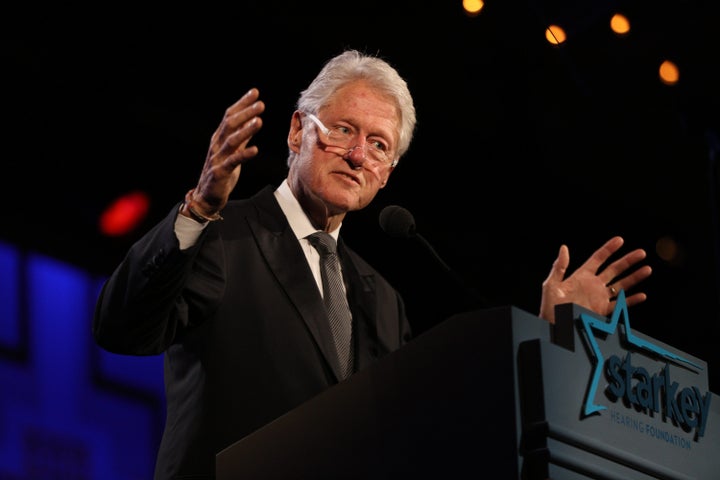 Former President Bill Clinton on Friday spoke at a gathering hosted by Starkey Hearing Technologies, one of a number of appearances he has made before the group over the last six years.
But since his last appearance, the company has become embroiled in lawsuits, including one from the fired former president that accuses top executives of wrongdoing.
The Starkey Hearing Foundation, the company's philanthropic branch, provides hearing aids and care to those who can't afford them. It has partnered with the Clinton Global Initiative to give 150,000 hearing aids to children in Africa; the company and foundation are also listed as donors to the Initiative. Former Secretary of State Hillary Clinton spoke before the foundation in 2014. 
In September, Starkey Hearing Technologies fired eight employees, including former president Jerry Ruzicka, according to the Minneapolis Star Tribune. Since then, several of the former workers have filed suits accusing the company of unfairly terminating them and executives of illegal behavior.
Among those suits was one by Ruzicka, who sued the company last week, claiming that he was fired for trying to expose wrongdoing by top executives, according to the St. Paul Pioneer Press. Ruzicka claims in the suit that company president William Austin is evading paying Minnesota state taxes, fits hearing aids in the state without a license and once told him it is good for businesses to keep a separate set of records for tax officials, the Pioneer Press reported. Ruzicka also accuses Austin of encouraging manufacturers to use faulty parts for hearing aids donated to the company's foundation and using company funds for personal expenses, according to the Star Tribune.
Former Operations Vice President Keith Guggenberger also sued the company in October, claiming executives retaliated against for not promoting Austin's stepson. Julie Miller, a former executive assistant, accused the firm of dismissing her for being married to a Starkey official who was fired.
Starkey, in turn, has accused Ruzicka of stealing millions of dollars from the company, and accused Miller of getting "hundreds of thousands of dollars" from a secret account.
In November, agents from the FBI and IRS raided Ruzicka's home. A company spokesman said at the time there was an investigation to determine whether Starkey had been the victim of criminal activity, the Minneapolis Star Tribune reported.  
No wrongdoing has been settled yet.
CORRECTION: An earlier version of this story misstated that the event was hosted by the Starkey Hearing Foundation; it was hosted by the affiliated Starkey Hearing Technologies.
Calling all HuffPost superfans!
Sign up for membership to become a founding member and help shape HuffPost's next chapter