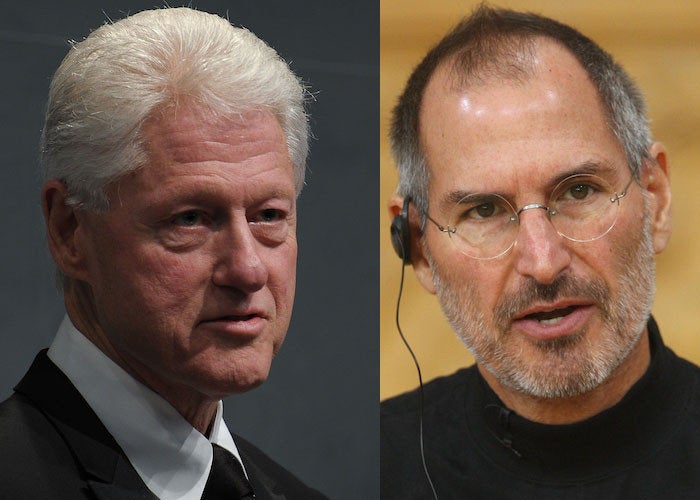 Walter Isaacson's biography of Steve Jobs reveals intimate details concerning the Apple co-founder's relationships with luminaries ranging from Silicon Valley pioneers and Hollywood celebrities to world-renowned artists and U.S. politicians.
Some are endearing – Jobs was reportedly tongue tied when he met Bob Dylan – some bizarre – Jobs remarked Mick Jagger must have been "on drugs or "brain-damaged" when they met – and some are eyebrow-raising, like Isaacson's anecdote about Jobs' advice to President Bill Clinton.
According to Isaacson, Clinton consulted Jobs on how to handle the Monica Lewinsky scandal that erupted in 1998 during a "late-night phone conversation" between the two men.
"I don't know if you did it, but if so, you've got to tell the country," Jobs answered.
According to Isaacson, after Jobs delivered his response, "There was silence on the other end of the line."
Jobs asked Clinton a favor of his own when working on the "Think Different" ad campaign. Jobs was eager to have Tom Hanks narrate the commercial – they'd been unable to secure Robin Williams, another top choice—and Jobs "pulled the president aside and asked him to telephone Hanks to talk him into it" while the two were at a fundraising dinner. Clinton declined.
"When my daughter was at Stanford he got in touch with me, and said, 'It's hard to travel to see your child when you're President. I've got a place out in the country. You and Hillary can stay there and bring Chelsea and her friends there anytime you want to,'" Clinton recalled. "He gave me a priceless gift: the opportunity to see my child while I was still a very public figure, so I'm highly biased in his favor. Plus, even I can work an iPad."
He went on to admire Jobs' work ethic, saying, "He was a very determined man. He probably had the most intense powers of concentration I ever saw."
However, the former President admitted that Jobs' leadership style wouldn't work well for a politician because "you have to be somewhat more inclusive."
"I am deeply saddened by the passing of Steve Jobs," Clinton said. "His passion for his work and his courage in fighting his cancer were an inspiration to us all. Hillary and I will always be especially grateful for his personal kindness to us when Chelsea was at Stanford."
Calling all HuffPost superfans!
Sign up for membership to become a founding member and help shape HuffPost's next chapter