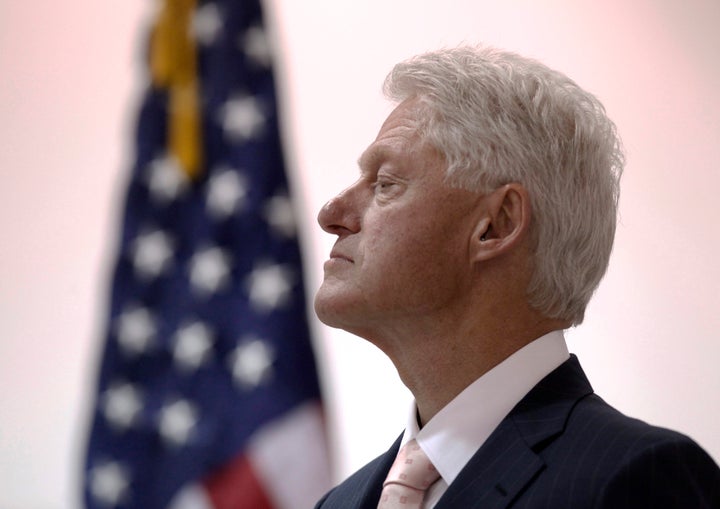 WASHINGTON -- Former President Bill Clinton has ended his paid relationship with the global financial consulting and private equity firm Teneo Capital, he confirmed in a statement Thursday night.
Clinton's statement was in apparent response to a New York Post report that Secretary of State Hillary Clinton had forced her husband to leave the firm to avoid the perception of conflicts of interest. The Post also reported that longtime Clinton aide Douglas Band was leaving the Clinton Global Initiative to focus on Teneo.
Band, in fact, is not leaving the Clinton Global Initiative, said Clinton. As for his own situation, "I did not sever my financial relationship with Teneo. I changed it," Clinton said. "Because of the invaluable help I continue to receive with my business relationships and speaking engagements, as well as with CGI and other philanthropic activities, like the Ireland investment conference, I felt that I should be paying them, not the other way around."
In November, The Huffington Post first reported Clinton's professional relationship with Teneo, founded by Band and Declan Kelly. The Post report said Secretary Clinton believed "the former president has 'damaged' the 'Clinton brand' by entangling himself and his organizations in arrangements that could appear questionable." As HuffPost reported in November, former British Prime Minister Tony Blair was also brought on by Teneo to serve on its paid advisory board.
Kelly, born and raised in Ireland, is a former top State Department envoy who served under Secretary Clinton and was a major donor to her presidential campaign and longtime friend.
The collapse of MF Global, a bankrupt hedge fund run by Jon Corzine, a top Democrat and former New Jersey governor, further damaged the Clinton brand. In November, HuffPost reported that Teneo's senior vice president, Tom Shea, was an aide to both Corzine and then-President Clinton and a onetime high-level State Department official. In December, the Post followed up with a scoop that Corzine's firm had been paying Teneo $125,000 a month for consulting services.
In February, Politico reported that Clinton was altering his relationship with Teneo.
On Thursday, the Post reported that President Clinton told Band, his longtime adviser and founder of the Clinton Global Initiative, to choose between CGI and Teneo. Band chose Teneo, the newspaper said. In his statement Thursday evening, Clinton said, "I hope and believe" Band is staying at the Clinton Global Initiative. Band told HuffPost that he is, in fact, staying.
"I couldn't have accomplished half of what I have in my post presidency without Doug Band," Clinton said. "Doug is my counselor and a board member of the Clinton Global Initiative, which was created at his suggestion. He tirelessly works to support the expansion of CGI's activities and my other foundation work around the world. In our first 10 years, Doug's strategic vision and fundraising made it possible for the foundation to survive and thrive. I hope and believe he will continue to advise me and build CGI for another decade."
The former president also responded indirectly to the Post's report that Hillary Clinton was preparing to "nest" at the Clinton Global Initiative after her term as secretary of state expires, perhaps in preparation for a presidential bid.
"The foundation's rapid growth, the management strains caused by our work in Haiti -- following similar efforts in the Gulf after Katrina and in Southeast Asia after the tsunami -- and the fact that our Chairman Bruce Lindsey and I aren't getting any younger, convinced me to undertake a management review to clarify what we needed to do as an organization to assure another decade of success," Clinton said in his statement.
"The review produced several positive suggestions, the most important of which was that we hire a full-time, New York-based foundation president, which we are currently in the process of doing. Outside of my foundation work, my personal office will handle special projects like Haiti and my work for Ireland, as well as my political and business activities."
Popular in the Community