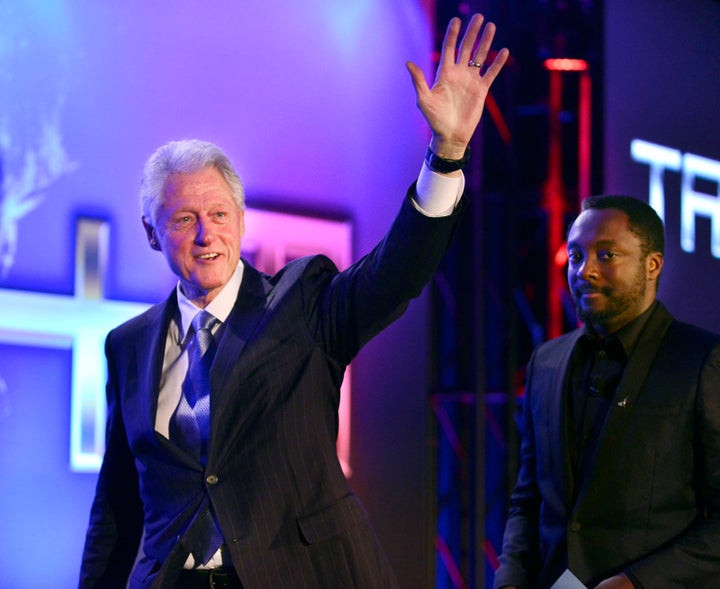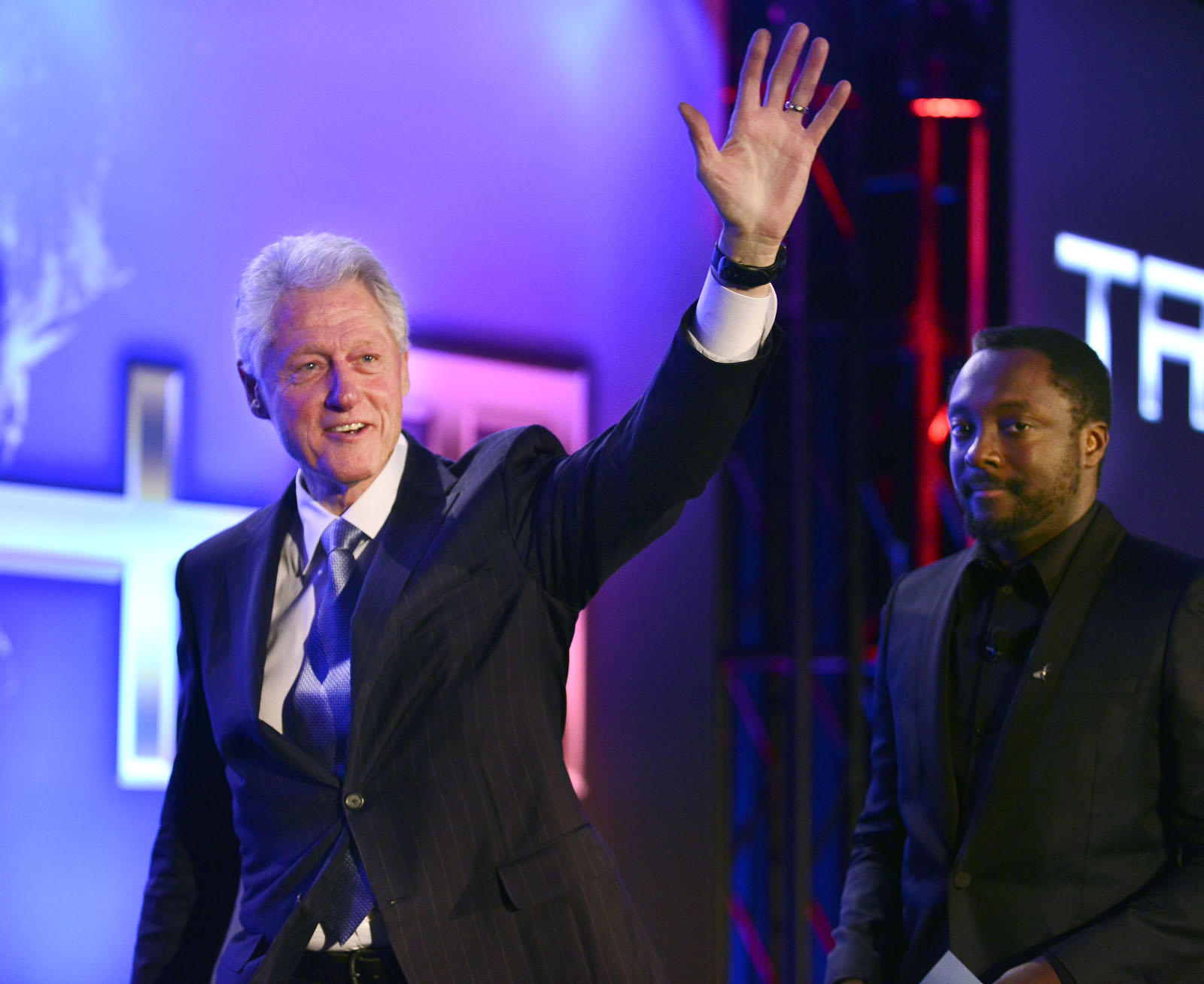 JEROD HARRIS/GETTY

"The world belongs to the cooperators," President Bill Clinton told the crowd gathered at entrepreneur and recording artist will.i.am's second annual Trans4m conference, saying that if one looks to the places in the world that are succeeding, "They are very different, but they are working together."
President Bill Clinton, Inventor Dean Kamen, White House Chief Technology officer Todd Park and Astronaut Leland Melvin were among the big name speakers at this year's by-invitation-only TRANS4M conference, held at the California Science Center in Los Angeles this past Thursday February 7th. The conference and benefit concert last night at Avalon Hollywood (featuring Alicia Keys), raised an impressive $3.3. million for the i.am.angel foundation.
"Trans4m Boyle Heights, Trans4m America" was the theme of this year's conference, curated by will.i.am and Intel Futurist Brian David Johnson. President Clinton commended will.i.am on focusing on Boyle Heights, the East LA community wiil.i.am grew up in, saying that change in that one community "could serve as a blueprint for others all over the country, and all over the world."
The conference consisted of a series of speakers and panels organized around the themes of Community, Wellness, and S.T.E.A.M (Science, Technology, Engineering, Arts and Math) Education, Trans4m began the morning with breakfast under the newly installed Space Shuttle Endeavor - which was mind boggling in of itself. Astronaut Leland Melvin told the crowd that the space program had been an example of what humans can achieve, and continued to be an inspiration for all -- and here he quoted the title of a will.i.am song that was beamed from the Mars Rover Curiosity -- to "reach for the stars."
What this conference had, that distinguishes it from other events such as TED or even the Clinton Global initiative was that each panel included the participation of students from Roosevelt High School in East LA, giving specific context to the hopes and dreams of these young students.
Jeffrey Marenco, a student at Roosevelt, said that just seeing all the homeless on skid row, affected him. "If I had a factory," he said, "I'd give them all jobs."
Rosa Vasquez, a freshman at Roosevelt told her panel that wellness to her means "feeling good inside and out." To which Beatriz Perez, who heads Coca-Cola's global sustainability initiatives, spoke of her company's efforts to empower women in Africa, through clean water programs as well as through career opportunities with local Coca-Cola distributors and a recently launched Coca-Cola water purification and distribution centers.
Many of the speakers shared their work and visions for the future. Margie Morris, a senior researcher at Intel, spoke of her work developing devices and software with emotional intelligence. Bill Goodwyn, CEO of Discover Education, discussed of the coming revolution in science education with digital textbooks and project-based learning. Morad Fareed, of Delos Living, discussed creating wellness standards for architecture.
Jack Dangermond, of ESRI, spoke of his mapping technology that allows one to organize available data about a community's health, wellness, crime, voting patterns, and develop information-based solutions. This information, Dangermond said, provides project-based learning for students, and allows them to create bottom-up solutions. Comedian and panel host Baratunde Thurston quickly dubbed this "Maptivism."
Dr. Bob Ross, president of the California Endowment, spoke of his own journey from being a pediatrician in crack-ravaged Camden, New Jersey to being a healer in the community by working for the endowment on programs to combat poverty and hopelessness.
Dean Kamen, popularly known as the inventor of the Segway, talked about the importance of Arts education, even as regards science. A beautiful equation, or an elegant solution are, Kamen said, works of art. Kamen also spoke about the impact of will.i.am's involvement in Kamen's high school robotics competition that included attending the launch as well as the finals of the yearly competition, performing for the students, and producing a TV special on the competition that aired on ABC. Will.i.am, for his part, credited Kamen for "changing his life" and inspiring him to further his own science education (Apparently will.i.am has signed up to take a computer science course).
"I really enjoy going to conferences and learning and observing people's passion points," will.i.am said, explaining that one of the conferences he most enjoys is the Clinton Global Initiative. President Clinton repaid the compliment, praising will.i.am for the Trans4m conference, and for calling upon each of us, as individuals, to take action for the greater good.
"Human potential, and intelligence is pretty much evenly distributed across the world," President Clinton said. "Opportunity is not." Clinton outlined three big challenges to economic growth: too much inequality, too much instability and too little sustainability. However, Clinton said, "Cooperation works." The challenge, he said, and this is what Trans4m is to be commended for doing is "to trigger a process that will lead to a different result."
In his opening remarks, Brian David Johnson, co-curator of the conference, had called the conference attendees "a room full of people who will transform the future." Or as will.i.am put it, "maybe if each of us can take responsibility for being the agent of change, we can transform our schools, our neighborhoods, our cities and our world."
Calling all HuffPost superfans!
Sign up for membership to become a founding member and help shape HuffPost's next chapter