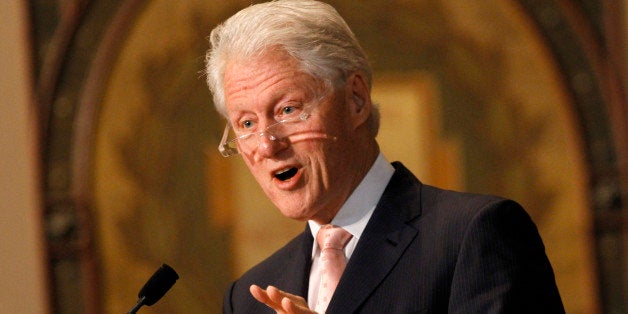 NEW YORK -- Former President Bill Clinton urged America this week to embrace its multiethnic and multicultural future.
During a paid speech on Tuesday at Univision's upfront, an annual presentation of the media company's brands to advertisers, Clinton told moderator and Fusion host Alicia Menendez that people should take a positive attitude toward the country's increasing diversity.
"I think the only thing that makes sense is to have a policy of radical inclusion," Clinton said. "If you look at the world today, every place people are practicing inclusive politics, inclusive governance for corporations, inclusive economics, good things are happening... This is not rocket science."
"You may win a lot of elections with divisive politics, but you won't make much progress," Clinton added.
The U.S. Census Bureau has predicted that by 2043, no single ethnic group will make up a majority of the country's population.
The former president said on Tuesday that politicians who hope to win the 2016 presidency -- a group of people that includes his wife, former Secretary of State Hillary Clinton -- will need to cultivate the Latino vote by taking a more progressive stance on immigration reform, an issue that remains particularly controversial among Republican aspirants.
"If I were advising candidates, I'd say, you've got to have a credible position on immigration reform," Clinton said. Passing such legislation would reduce unemployment, jump-start the creation of new businesses and lower the tax burden on the average American, he added.
Hillary Clinton, who is vying for the Democratic nomination for the presidency, appears to take a similar view these days.
Speaking in Las Vegas last week, the former secretary of state took a more liberal stance on immigration than President Barack Obama. Not only did she embrace a pathway to citizenship for undocumented immigrants, she also said she supports using executive authority to protect from deportation the parents of undocumented immigrants who were brought to the country as children -- a position the Obama administration has rejected, saying it goes beyond the president's authority.
The Clintons have a close relationship with Univision. The network has partnered with the Clinton Foundation on a childhood development program called "Pequeños y Valiosos" -- Spanish for "Young and Valuable." Univision owner Haim Saban, the head of the consortium that bought Univision in 2007, has donated some $25 million to the foundation and hosted a fundraiser for Hillary Clinton last week, according to Politico.
A relationship with Univision is politically valuable for anyone hoping to court Hispanics. The flagship network reaches the largest Spanish-language audience in the country and sits among the top five U.S. networks regardless of language. For 77 nights last year, Univision was the top-performing network on prime time in the United States among adults 18 to 34, according to a company compilation of ratings data.
Univision's relationship with Republicans remains more contentious, in part because of the dissonance between the pro-immigrant stance of Univision News and the views of some hard-line Republicans on the issue.
Univision had invited former President George W. Bush to appear as a paid speaker at Tuesday's event as well, but he declined, according to a company representative.
Popular in the Community