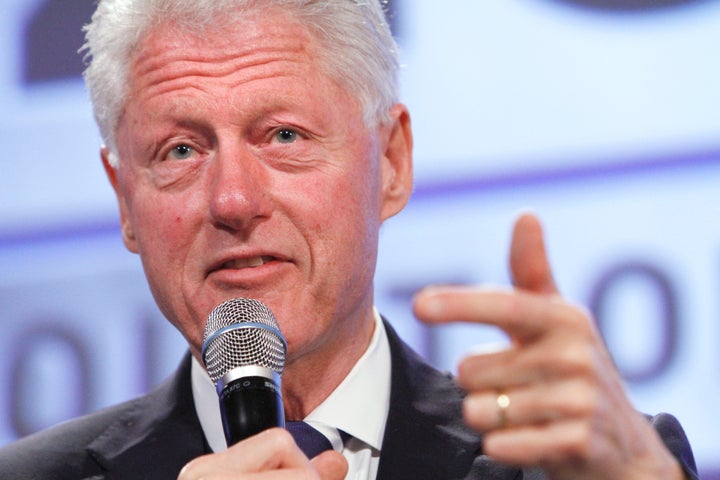 WASHINGTON -- Former President Bill Clinton went after Republican governors and legislators on Wednesday for their "disciplined, passionate, determined effort" to pass controversial voter ID laws that could keep some traditionally Democratic voters from casting a ballot in 2012.
"There has never been in my lifetime, since we got rid of the poll tax and all the other Jim Crow burdens on voting, the determined effort to limit the franchise that we see today," Clinton said in his keynote address to a roomful of young progressives at the Campus Progress National Conference.
"This is not rocket science. They are trying to make the 2012 election look more like the 2010 election than the 2008 election."
Clinton specifically chastised Florida Gov. Rick Scott (R) for imposing a five-year waiting period on the restoration of voting rights for ex-prisoners, many of whom fall into racial groups that have traditionally voted Democratic -- and would likely vote for Democratic candidates in 2012.
"Why should we disenfranchise people forever once they've paid their price? Because most of them in Florida were African-Americans and Hispanics that would tend to vote for Democrats, that's why," he said.
The former president also spoke out against efforts in New Hampshire to prohibit the state's higher education students from voting in their college towns unless they had previous residency there. The proposed legislation, which Clinton labeled unconstitutional because of an earlier court ruling that allowed students at Vanderbilt University to vote in Tennessee, has been stalled for now but could be proposed again before next year's presidential election.
So far, 14 states have passed laws stating that voters will need to present a photo ID before casting a ballot in the 2012 election. Seven of those states -- including Texas and swing state Indiana -- have made presentation of a photo ID an absolute requirement before a person's vote is counted, while the rest allow citizens to vote if they meet other certain criteria.
Republican representatives have heavily pushed for voter ID laws since January 2011, with 20 states seeing new proposed legislation on the matter and 14 states considering adapting previously existing laws to require photo ID at the polls.
Like Clinton, many Democratic representatives have compared voter ID laws to the Jim Crow laws that limited many African-Americans' right to vote in the early 20th century. Democratic National Committee Chair Rep. Debbie Wasserman Schultz (D-Fla.) has accused Republicans of wanting "to literally drag us all the way back to Jim Crow laws and literally -- and very transparently -- block access to the polls to voters who are more likely to vote Democratic candidates than Republican candidates."
A 2006 study by the Brennan Center for Justice found that 11 percent of U.S. citizens don't have any government-issued photo ID. Civil rights groups argue that low-income and minority voters make up a disproportionate share of that group and would therefore be disenfranchised by the voter ID laws being considered in many states.
Last month, a group of 15 Democratic senators led by Michael Bennet (D-Colo.) penned a letter to Attorney General Eric Holder asking for the Department of Justice to review the controversial laws. "These measures have the potential to block millions of eligible American voters without addressing any problem commensurate with this kind of restriction on voting rights," the letter said. "These laws are a solution in search of a problem."
The Huffington Post wants to know about the campaign ads, town halls, robocalls, mailings and other election news happening where you live. Email us your tips, videos and photos to offthebus@huffingtonpost.com.
If you want to be even more involved with our election coverage, please sign up here.
Popular in the Community