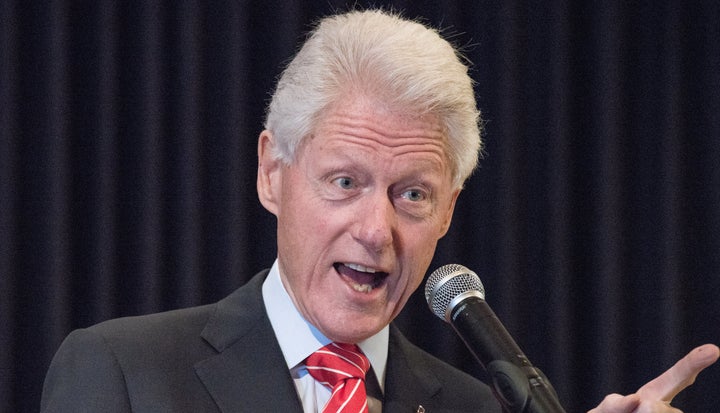 States are in the process of imposing a three-month time limit on benefits for working-age adults who don't have children or jobs. Tens of thousands of Americans in nearly two dozen states reached the limit at the beginning of the month.
"These totally unnecessary cuts would increase demand on the nation's charitable food system at a time when food banks and other hunger-relief groups are stretched to meet sustained high need," Diana Aviv, CEO of Feeding America, a national nonprofit that supports food banks, said Friday.
Usually billed as a "work requirement," the limit on benefits was part of the landmark welfare reform law Clinton signed after campaigning for president on the promise to "end welfare as we know it." Clinton touted the law's benefits in response to protesters at an event on Thursday.
"They say the welfare reform bill increased poverty," Clinton said. "Then why did we have the largest drop in African-American poverty in history when I was president? The largest in history."
Poverty declined across the board in the years following the law's enactment, thanks in large part to a booming economy. But then poverty rates rose again. And as a result of the law's strictures, a dwindling percentage of poor people now receive welfare benefits.
The law primarily addressed Aid to Families with Dependent Children, transforming a federal program that assisted anyone poor enough to qualify into Temporary Assistance for Needy Families, a state-controlled program with limited funds.
Benefits under the Supplemental Nutrition Assistance Program (informally known as food stamps) remain available to anyone who applies and is poor enough to qualify -- currently about 45 million Americans. The time limit on benefits for able-bodied adults without dependents, roughly 10 percent of the SNAP population, had been waived in recent years because of high unemployment.
"This wasn't the biggest driver of welfare reform. It was a piece of it," Ed Bolen, a food assistance expert with the Center on Budget and Policy Priorities, said in an interview. "It's a big deal now because TANF has turned out to be far less powerful in reaching people, so SNAP is a bigger program relative to TANF."
Bolen and his colleagues at the Center on Budget, a liberal think tank, have estimated the time limit will end benefits this year for at least 500,000 Americans and as many as 1 million.
When Clinton signed the welfare reform bill, in his signing statement he lamented the fact that the bill "fails to provide Food Stamp support to childless adults who want to work, but cannot find a job or are not given the opportunity to participate in a work program."
The limit is usually called a work requirement because the targeted SNAP recipients can keep their benefit if they spend 20 hours per week participating in "work activities," which can include actual work, job training or volunteering. Since poor people who qualify for SNAP can't always find jobs, and few states provide qualifying "work activities," the work requirement is all but guaranteed to cut people off.
Arthur Delaney is a co-host of "So, That Happened," the HuffPost Politics podcast. Joining the podcast this week is Wisconsin Rep. Mark Pocan, Americans For Financial Reform's Alexis Goldstein, and The Huffington Post's Ryan Grim and Paige Lavender.
Popular in the Community