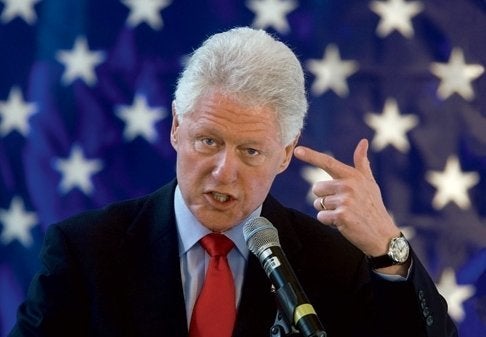 My book about Bill Clinton's post presidency, Clinton in Exile: A President Out of the White House, was published on May 6. On June 1, Matt Drudge linked to a piece by former New York Times reporter Todd Purdum that will run in the July issue of Vanity Fair, where Purdum is now national editor. Titled "The Comeback Id," it is relentlessly negative, full of anonymous sources, of speculation that Clinton's sometimes loony behavior on the campaign trail is related to his bypass surgery of four years ago, of questions about possible conflicts of interest in his business dealings with various billionaires, especially grocery store billionaire and investor Ron Burkle.
One newspaper editor who read my book and then read the Vanity Fair piece and emailed me to alert me to its existence, wrote that it all sounds familiar; and it's true that there's almost nothing in the Purdum piece that is not in my book. The difference is that mine is a book, so I delve much deeper and I do devote many pages to the good works that Bill Clinton has done, especially in Africa. I did interview many of the physicians and NGO heads who work with him there, most of whom attested to his splendid performance on that front.

Bill Clinton -- or more precisely in memo jargon, the "Office of President Clinton"-- came out swinging in a response published the same day in Politico, blasting Purdum for not bothering to interview anyone connected to or impacted by the former President's philanthropic endeavors. As reported by Ben Smith, Bill Clinton attacked the magazine's editor-in-chief, Graydon Carter, charging that Carter's own business dealings were conflicted; that the piece represents "journalism of personal destruction," that Purdum is not an M.D. so his assertions about Clinton's health are inappropriate, and that he has the statement of only one physician -- who never examined the president -- for his speculation that Clinton has not been the same since his bypass surgery. Clinton also charges Purdum with a conflict of interest for writing the piece even though he is married to Clinton's former press secretary, Dee Dee Myers, who, in effect, was nudged out of her job in the first term. Presumably, although it's not clear, President Clinton is saying that the piece is a sort of payback for that long-ago insult.

Many of Purdum's charges -- the business conflicts, the glitzy, inappropriate friendships, the assertion that Bill has been nothing but a drag on his wife's campaign
-- are well taken; I make them in my book, and I do believe that when the history of this Hillary/Obama race for the nomination is written, Bill Clinton will be seen as one of the key reason his wife lost. "The first black president" managed to turn African Americans who were supporting Hillary by large margins into almost unilateral Obama supporters. I also believe, as my chapter heading, "Philanderer in Chief" makes clear, that Clinton out of the White House is still the same undisciplined playboy that he was in the White House.

But perhaps the most interesting thing about the former president's detailed almost comically specific response -- and of course by responding he is drawing more attention to the piece than it ever would have received on its own -- is that he completely ignores the take away point of Purdum's piece: that Bill Clinton is still running around with women not his wife.

One of Purdum's targets is Clinton's butt boy-turned-counselor Doug Band. Like Purdum, I listened to people who were close to Clinton while he was president and needed them, who felt cast aside by Clinton post-presidency as he befriended billionaires and traveled worldwide on their private jets. Purdum never talked to Band; neither did I. But I got a sense of the man as, over two years, I researched and wrote Clinton in Exile. I'd wager that the one-time water/coat holder Band, who former FOBs described as ultra-arrogant, who earned his law degree while working for the President, wrote the response. My sources described Band as a man who so closely identifies with Clinton that he has become more of an enabler than counselor or protector.

In any case, it this is not a response that is worthy of a former president -- quoting a radio talk show host attesting to Clinton's skills on the stump just seems weird and sad; as does the inclusion of precise percentage point wins in rural Pennsylvania counties in which he campaigned. Hillary won there convincingly, but the President's response does not note that Bill assiduously campaigned in front of small groups of white voters in rural North Carolina, but Hillary still lost that state decisively.)

Whoever wrote the response to the Vanity Fair piece blasts Purdum for interviewing "over [sic] 50 people [...] before contacting President Clinton's office about his piece." I contacted Clinton, through his then-press secretary Jay Carson, the first week I started to research my book, and all I got for my promptness was the runaround from Carson, who treated me abysmally, making me jump through ridiculous hoops, wasting my time, money, and energy, knowing, I believe, all along that an audience with the former president would never be granted.

There have been many pieces written about the former president's good works -- he has often been the cover boy for stories that are so glowing that they might have been written by Clinton's own public relations agents. His response references many of them, again making the entire endeavor seem pathetic, beneath the dignity of a former President. On the other hand, President Clinton has often behaved in a manner that not even the most fawning Clinton sycophant would call dignified.

REAL LIFE. REAL NEWS. REAL VOICES.
Help us tell more of the stories that matter from voices that too often remain unheard.