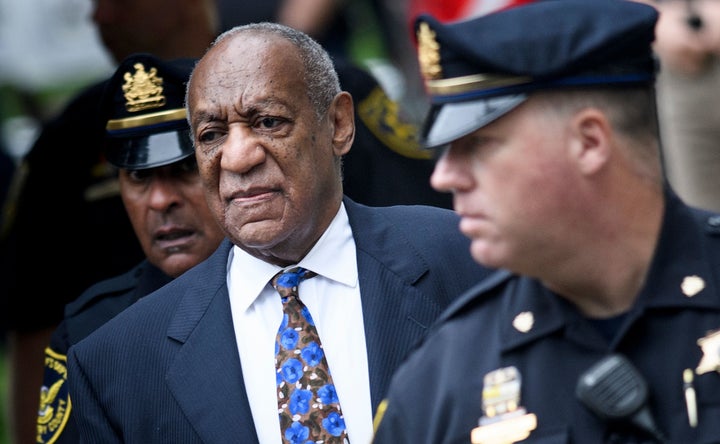 NORRISTOWN, Pa. ― The first day of Bill Cosby's two-day sentencing hearing for sexually assaulting Andrea Constand, a former Temple University women's basketball coach, was emotional and draining.
By far the most powerful moment of the day was when Andrea Constand, her parents, Gianna and Andrew Constand, and her sister, Dianne Parsons, all took the stand separately to read their victim impact statements out loud to Cosby. The family had read their impact statements in closed proceedings earlier this summer, but all four chose to read a version of their original statements in court on Monday, Judge Steven O'Neill told the courtroom.
Andrea Constand's victim impact statement was short, but powerful.
"Your honor, I have testified, I have given you my victim impact statement," the 45-year-old, who read her statement first, said in court on Monday. "The jury heard me, Mr. Cosby heard me and now all I am asking for is justice as the court sees fit."
When O'Neill asked if she would like to add anything more, Andrea Constand simply said, "That's it."
Cosby, 81, was found guilty in April on three separate charges of aggravated indecent assault for drugging and sexually assaulting Andrea Constand in 2004. The disgraced comedian showed up to the Montgomery County courthouse in Norristown with attorney Joseph Green and spokespeople Andrew Wyatt and Ebonee Benson. Cosby's wife, Camille Cosby, was not in attendance.
The pews behind him were nearly empty; a stark contrast to the prosecution's sitting area, which was completely full. Andrea Constand and her family sat behind the prosecution and were joined by attorney Gloria Allred and a few of the other Cosby accusers who testified as "prior bad acts" witnesses including actress Janice Dickinson, Chelan Lasha and Lise-Lotte Lublin.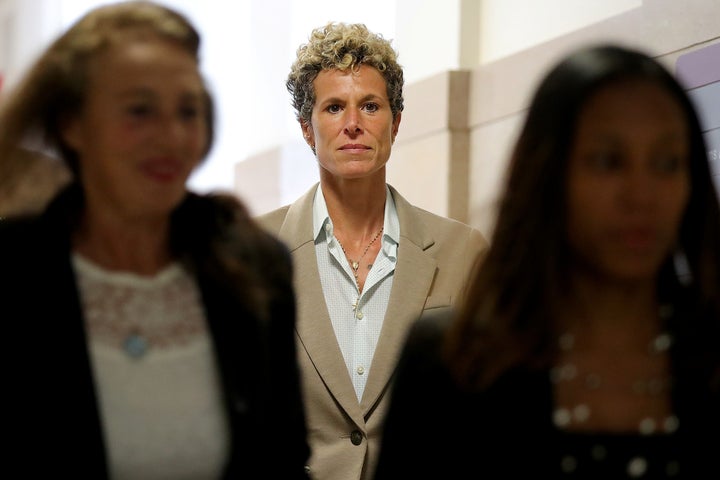 Gianna Constand took the stand after her daughter to read her own victim impact statement.
"Dear Judge O'Neill, having to write this victim impact statement is probably one of the hardest things I've ever had to do," she began.
Gianna Constand discussed the trauma her daughter endured over the past 14 years because of Cosby. She also talked about the very personal suffering she has experienced throughout this process, including being diagnosed with Parkinson's in 2016.
"This has been a very difficult situation for me and I have lost the ability to trust or share my feelings with anyone," Gianna Constand said, becoming emotional. "I do not believe in my heart that Bill Cosby has ever cared or even considered the pain and suffering this mess has caused us, or the family as a unit."
Andrea Constand's father, Andrew Constand, took the stand next to read his victim impact statement.
"I am the proudest man in the world to have Andrea as my daughter," Andrew Constand said. "The thought of what happened to my daughter Andrea will always be with me like a dark cloud hanging over my head."
He discussed how close their family was until 2005, when Constand moved home from Philadelphia a few months after Cosby assaulted her. Andrew Constand said his daughter returned home changed. She seemed "depressed, vulnerable, slow to react to questions and answers, and had become detached from our family unit."
Diana Parsons, Andrea Constand's older sister, was the last family member to read her impact statement. Similar to her parents' statements, Parsons discussed just how close her family is and how Cosby's assault nearly tore them apart.
"When I was made aware of what happened to Andrea I was shocked and felt helpless for her ... The impact of this event will never go away," Parsons said.
"Many people always ask me how Andrea is doing," she said. "I always answer, 'She is doing fine, thank you.' Immediately after I answer, I ask myself I wonder how she is really doing. How can she handle being called a pathological liar? ... How can she handle being called a drug dealer? ... How did she have the courage to come forward and tell her mother what had happened to her? And how will she ever trust again?"
"How did she have the courage to come forward and tell her mother what had happened to her? And how will she ever trust again?"
Parsons concluded her statement, telling the court: "She is my hero." Minutes later, when Parsons sat back down, Andrea Constand put her arm around Parsons and hugged her closely.
The comedian's sentencing is set to be handed down sometime Tuesday. O'Neill announced that the prosecution and defense agreed to merge the three felony counts into one, adding that the average total confinement for perpetrators of the same crime is anywhere between 22 to 36 months.
During closing arguments, Green asked for house arrest, citing Cosby's old age and failing eyesight.
"Mr. Cosby is not dangerous," Green said. "Eighty-one-year-old blind men are not self-sufficient and are not dangerous."
He later reiterated, "Incarceration would impose excessive hardship on his disability and age. Ask yourself, 'What does an 81-year-old man do in prison?'"
Green also likened the media circus surrounding Cosby's trial to the comedian's death by stoning in "the court of public opinion."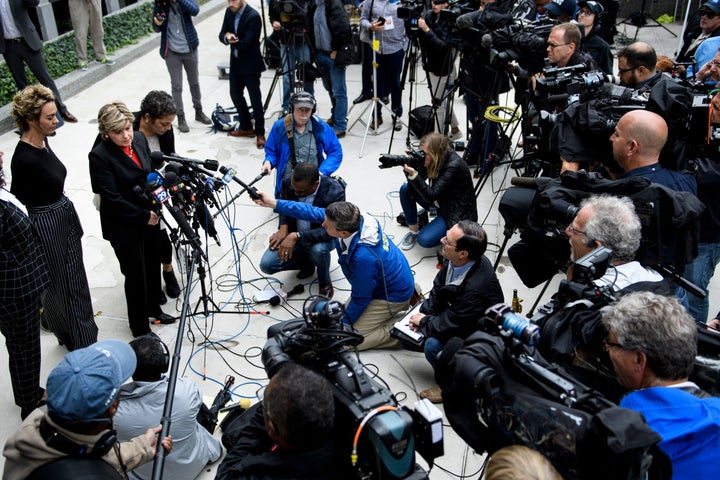 In a lengthy and dramatic statement, Montgomery County District Attorney Kevin Steele asked O'Neill to impose to the maximum sentence of five to 10 years in state prison, and openly opposed the defense's request for house arrest. Steele also asked Cosby be subjected to the maximum monetary fine of $25,000 and that the comedian cover all of Andrea Constand's court costs from the past two years.
"In many ways we have been led to believe that he simply doesn't think he's done anything wrong. Well, the jury found otherwise," Steele said, to a few laughs from the audience. "And they spoke loud and clear, and they spoke with one voice and convicted the defendant ... They said guilty, they said guilty, they said guilty."
"This wasn't a complicated case from the beginning. He said he did it. He said it in the depositions," he continued. "It's not complicated, but he seemingly doesn't recognize that that's wrong. That it's wrong to drug somebody and sexually assault them."
Later, Steele stood up from his seat and walked over to Andrea Constand, who was seated in the viewing pews. He became visibly emotional as he pointed at Andrea Constand and said, "I am in awe of this lady. I am in awe of the people that came forward. I am in awe of the people that were able to testify in this case."
Cosby had been under house arrest, on $1 million bail, following his April conviction. He was tried on the same charges in 2017, but the trial ended in a hung jury and a mistrial.
Popular in the Community