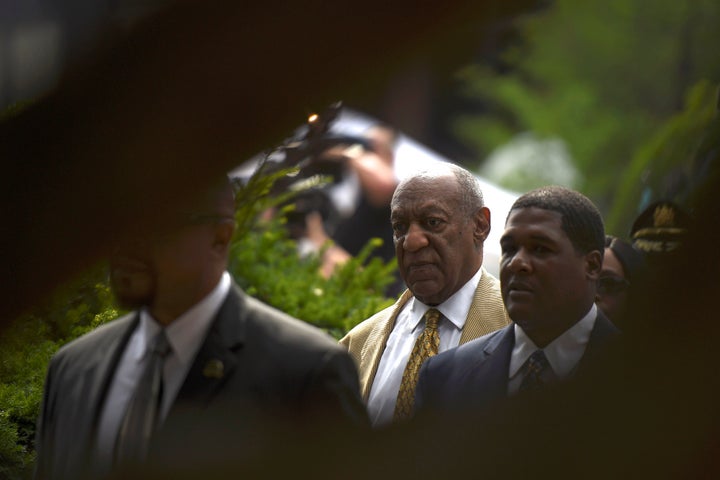 Bill Cosby wants to block prosecutors from using a phone recording in his upcoming sexual assault trial that allegedly shows him offering money to the accuser.
An attorney for the comedian on Wednesday filed papers to suppress the January 2005 phone conversation between Cosby, 79, and the accuser's mother. It's inadmissible, according to lawyer Brian McMonagle, because Pennsylvania requires both parties to consent to taping a conversation and Cosby was unaware that Andrea Constand's mother was recording him.
"Mrs. Constand did not inform Mr. Cosby that she was secretly recording their telephone conversation, making it clear that he did not authorize the interception of the communication," McMonagle wrote in the motion.
Constand's mother, Gianna Constand, recorded the call from her Toronto-area home and abided by Canadian laws, McMongale acknowledged in the filing.
Judge Steven O'Neill must weigh whether the law of Canada or Pennsylvania applies.
"It's somewhat of an uphill battle" for Cosby, said Widener University law professor Judith Ritter. "I would be surprised if the court granted this." That's because a higher court in Pennsylvania has admitted a recording in another case in which only one person knew about the taping, she said.
The first call allegedly occurred on Jan. 16, 2005, roughly a year after the Temple University women's basketball team employee said that Cosby drugged and molested her in his Pennsylvania home in early 2004. It was not recorded, but Constand's mother claimed to police that Cosby admitted to fondling her daughter, apologized and offered to pay for therapy. He also promised to tell her what medication he gave to Constand.
The two spoke again on Jan. 17. This time Constand's mother recorded their conversation with a Radio Shack device. Cosby again offered to pay for therapy and also said he'd pay for Constand's graduate school education and moving expenses to relocate to Florida, according to detectives' reports.
Detectives wrote that this appearance of generosity is consistent with the behavior of a person who's trying to make amends for a misdeed, according to documents cited by the local newspaper, the Times Herald.
The Montgomery County district attorney charged Cosby with aggravated indecent assault in December. Cosby faces a sentence of five to 10 years if convicted. Calls by The Huffington Post to the district attorney's office were not immediately returned on Wednesday.
Cosby has pleaded not guilty and claimed that the sexual encounter with Constand was consensual. He's also denied allegations of sexual misconduct from more than 50 other women from incidents dating back to the 1960s.