A Minnesota artist says he's glad he sparked conversation after his portrait of Bill Cosby made out of canola seeds was removed from the Minnesota State Fair.
An small accompanying card identified the seeds as "rapeseed," a reference to both the origins of the canola plant and the allegations that dozens of women have made against Cosby. (Canola was developed in the 1970s by selectively breeding rapeseed plants.)
"I was trying to find a topic that was relevant to 2015," Nick Rindo, a Minneapolis-based software designer and freelance illustrator, told The Huffington Post.
He was following the mounting sexual assault allegations against Cosby and got inspired. "I thought, 'God, I should do a Bill Cosby.' Then I realized the wordplay thing," he said.
Rindo affixed canola seeds, some of which were painted, to a hard-backed canvas to create the comedian's likeness. The small card that accompanied the portrait explained that it was made from canola seeds and had the word "rapeseed" in parentheses.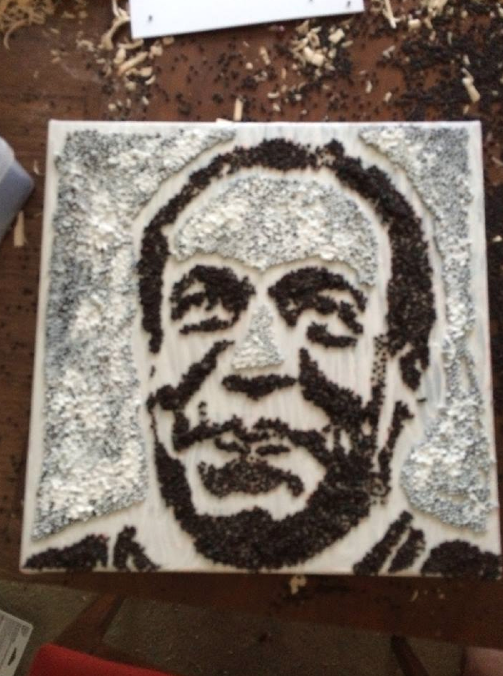 The artwork, which is around 12-by-12 inches, was on display at the fair last week, but a fair staffer taped over the word rapeseed, Rindo said. He said that with the word covered, he was worried people would think he was a Cosby supporter.
"I didn't want it to look like I was glorifying Bill Cosby," he said.
The staffer who covered up the word, Ron Kelsey, the fair's crop art superintendent, told Rindo he did so because people in the United States don't typically use the term "rapeseed." But Rindo suspects he was just trying to avoid controversy. Either way, Kelsey had pulled down the portrait by Friday, citing numerous complaints.
The artist noted he doesn't want to see Kelsey get in trouble. "I don't want the art censorship comments to come down too hard on him," Rindo said. "He's a nice guy who geeks out about crops."
Rindo, who has been contributing "crop art"-- which utilizes agricultural products or land -- to the fair for three years, said he's amused that his Cosby portrait got so much attention. His other submission, of the late actor Leonard Nimoy, who played Mr. Spock on Star Trek, is much more intricate and took longer to make. Rindo noted that he created the image of Cosby at the last minute, and it's a lot less elaborate than most of his work with seeds.
And what's going to become of the Cosby portrait now?
"I assume they haven't thrown it away or burned it," Rindo said, adding that he believes he'll get it back when the fair is over. He said he's already had multiple offers to purchase it.
This article has been updated with additional information about the relationship between rapeseed and canola seeds.
Related
Popular in the Community